"Sarasate plays at the St. James's Hall this afternoon …"
– The Red Headed League (REDH)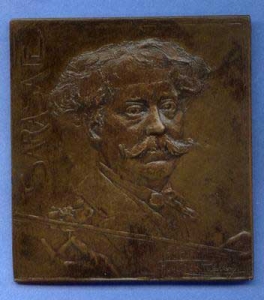 One of our very first posts on this website was about the Spanish 1994 10 Peseta coin honoring Pablo Sarasate, the noted violinst mentioned in The Red-Headed League. We have now come across two other items featuring Sarasate.
The first is the portrait placque pictured above, made in 1905, by sculptor Franz Kounitzky. This rectangular, unifae placque measures 78mm by 86mm and is cast in copper. It features Sarasate's draped bust facing three-quarters right, his head almost facing. Below is a violin bow, held by a hand on the extreme right; to his left is a flower is delicately held by the thumb and forefinger of another hand.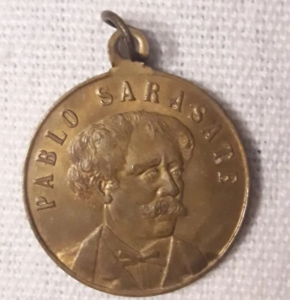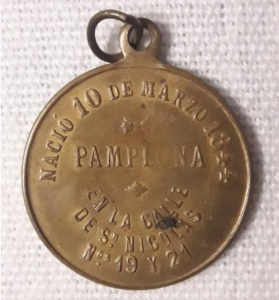 This 27mm medallion was issued to commemorate the 100th anniversary of his birth at his birthplace in Pamplona, Spain.
Sarsate was unique in being the only actual person mention in the Canon, other than royalty, to be featured on a circulating coin. He was joined by Sherlock Holmes in 2019 when the United Kingdom's 50 pence coin was released into circulation.