"… like all great artists …"
– The Adventure of Black Peter (BLAC)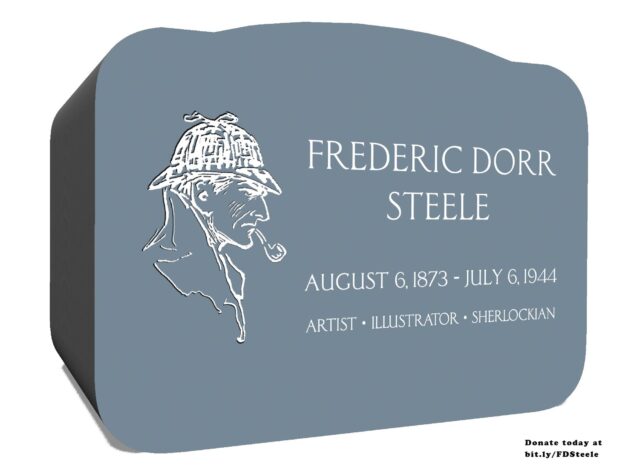 Frederic Dorr Steele came to New York City in 1889, studied at the Art Students League and the National Academy, and became an in-demand illustrator for America's leading publishers. When the 13 stories of The Return of Sherlock Holmes were to appear in Collier's in 1903, his idealized portrait of Sherlock Holmes became an enduring, permanent contribution to the character and an inspiration for other artists. After Steele died in 1944 his ashes were interred in the Steele/King family plot at the Albany Rural Cemetery in Menands, NY.  No stone marks his resting place. With the approval of his descendants we are raising $5,000 for a monument, perpetual care and refurbishment, consistent with the historic cemetery's standards.
Steele illustrated all but four of the 33 Holmes cases published after 1903 and many other works.  He was the first living illustrator to have representation in the Cabinet of American Illustration of the Library of Congress. His work has delighted millions of readers for more than a century. Please help us create a fitting memorial to this great artist, illustrator and Sherlockian.
The 20-member Frederic Dorr Steele Memorial Committee is headed up by Burt Wolder, the 47th Garrideb and 6 other Garridebs are on the committee.
We strongly urge that you consider supporting this cause by donating at their GoFundMe page.
Just a quick mention that the challenge coin issued by the Diogenes Club of Washington, DC features one of Steele's drawings.