Hey Buddy – Want to Buy a Watch?
"Holmes had taken out his watch …"
– A Study in Scarlet (STUD)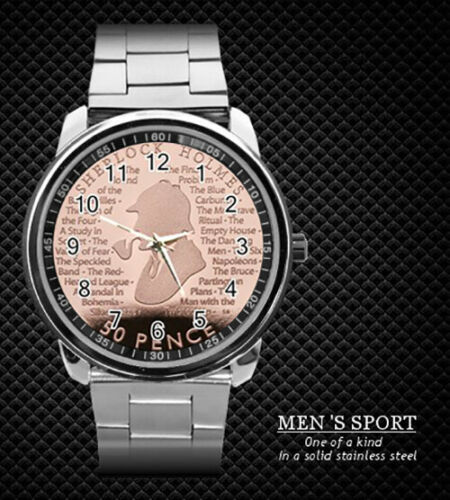 Since the 2019 Sherlock Holmes 50 pence coins was released we have reported examples being altered with decals, placed in special holders, made into keychains and bells. Now, you can buy a watch with the coin as the design.
Currently being offered in online marketing websites, this unisex silver-tone high quality watch can be obtained for under $20 (plus shipping & handling). The watch casing measures approximately. 1.5″ in diameter, the watch band fits most wrists from approx. 6.5″ to 8″. The watch band is made of stainless steel. Stainless steel back Miyota watch movement made by Citizen. The battery for the watch is included as well.
If any of you completists out there purchase one of these, please let us know.