Faces of Holmes: Roy Hudd
"… this man here – is an actor."
– The Adventure of Shoscombe Old Place (SHOS)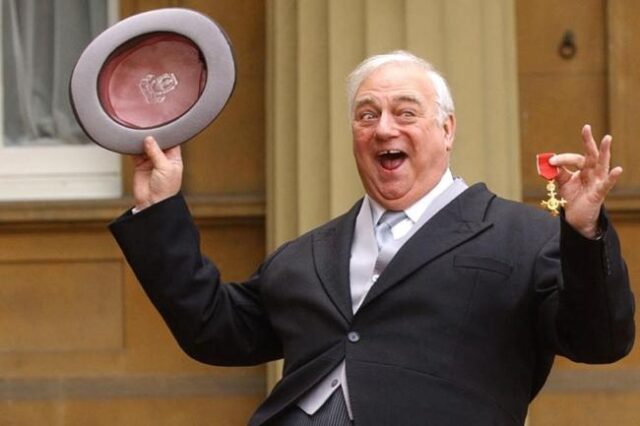 Actor / Comic Roy Hudd with his OBE in 2004.
Actor/Comic Roy Hudd, who portrayed Sherlock Holmes in the BBC Radio 2 series The Newly Discovered Casebook of Sherlock Holmes in 1999, passed away this weekend after a brief illness. He was 83 years old.
The Newly Discovered Casebook of Sherlock Holmes broadcast six episodes in January and Februrary 1999. Hudd would return in February, 2002, to portray James Phillimore in the The Singular Inheritance of Miss Gloria Wilson episode of the BBC 4 Radio series The Further Adventures of Sherlock Holmes. This story was based on a mention from The Problem at Thor Bridge.
In 1994 Hudd portrayed John Gedgrave (aka Frank Carter) in The Dying Detective episode of the Granada series The Memoirs of Sherlock Holmes opposite Jeremy Brett and Edward Hardwicke.
For those that wish to learn more about Hudd, be sure to check out his Wikipedia entry or his BBC obituary.
Hudd was honored as an Officer of the Most Excellent Order of the British Empire (OBE) in 2004. At the time of the announcement of his honor, the BBC reported that :
Comedian and playwright Roy Hudd has been appointed an OBE for his services to entertainment.
The 67-year-old comic said he was delighted by the honour.
After a leaked list recently revealed that 300 celebrities had rejected awards, Hudd joked: "Well, someone had to accept one otherwise there would be shelves full of them left."
He said: "I don't care whether it's the British Empire, the Croydon Empire, the Chelsea Palace or the Lewisham Hippodrome, I'm just delighted to be thought of."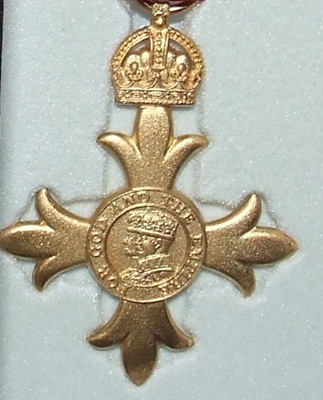 The badge for the OBE is in the form of a cross patonce (having the arms growing broader and floriated toward the end), the obverse of which bears the left facing busts of King George V and Queen Mary; the reverse bears George V's Royal and Imperial Cypher. Both are within a ring bearing the motto of the Order. The badges are plain gold (unlike the enamelled CBE badge), and is suspended from a ribbon that is rose-pink with pearl-grey edges, with the addition of a pearl-grey central stripe for the military division.
In closing, we share this recording of The Case Of The Clockwork Fiend, the first episode from The Newly Discovered Casebook of Sherlock Holmes that starred Hudd.