"… Holmes refused a knighthood for services which may perhaps some day be described."
– The Adventure of the Three Garridebs – (3GAR)
Elton John receiving his Knighthood, 1998
During his long and illustrious career, Elton John has been honoured by Queen Elizabeth II on three separate occasions, in addition to being awarded the Legion of Honor from France. Firstlet's discuss his first British honor, in the New Years Eve Honours 1996, John was made a Commander of the Order of the British Empire.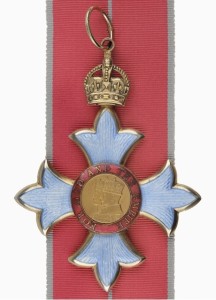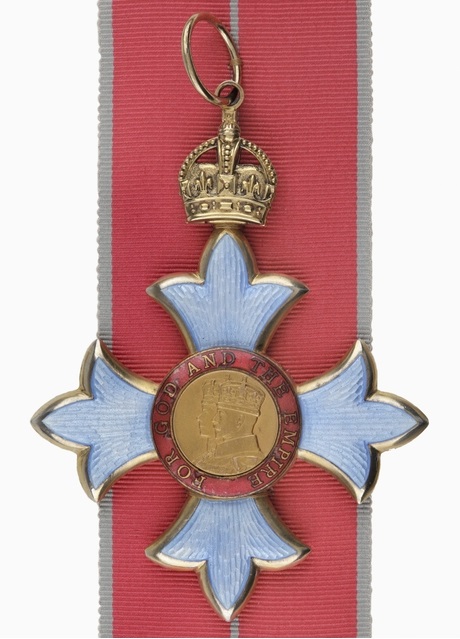 The badge for the CBE is in the form of a cross patonce (having the arms growing broader and floriated toward the end), the obverse of which bears the left facing busts of King George V and Queen Mary; the reverse bears George V's Royal and Imperial Cypher. Both are within a ring bearing the motto of the Order. The badges are enamelled with pale blue crosses and crimson ring, and is suspended from a ribbon that is rose-pink with pearl-grey edges, with the addition of a pearl-grey central stripe for the military division.
On Febrary 24, 1998, John became Sir Elton John when the Queen honoured him. At the top of this post is a picture of John, with his family, after the ceremony.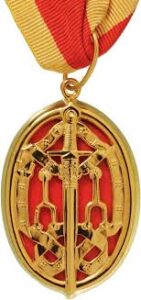 Unlike when Sir Arthur Conan Doyler received his knighthood in 1902, John was presented with a 2 3/8 by 1 3/8 inch medallion was created. The insignia is described as "Upon an oval medallion of vermilion, enclosed by a scroll a cross-hilted sword belted and sheathed, pommel upwards, between two spurs, rowels upwards, the whole set about with the sword belt, all gilt."
Most recently, in the New Years Eve Honours 2020, it was announced that John was named as a Member of the Order of the Companions of Honour (CH) for services to music and to charity. Due to the COID-19 pandemic, this has not yet had a ceremony scheduled.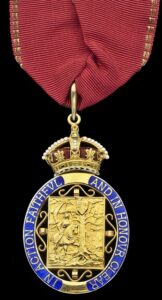 The order is an oval medallion, surmounted by an imperial crown, and with a rectangular panel within, depicting on it an oak tree, a shield with the Royal Arms of the United Kingdom hanging from one branch, and, on the left, a mounted knight in armour. The insignia's blue border bears in gold letters the motto IN ACTION FAITHFUL AND IN HONOUR CLEAR. Men wear the badge on a neck ribbon (red with golden border threads).
On June 21, 2019, French President Emmanuel Macron awarded John as a Chevalier of the Legion of Honour. Macron's office declared John a "melodic genius" and one of the first gay artists to give a voice to the LGBT community.
Famed musician Sir Elton John received the Legion of Honor today, which is France's highest award, during a visit to the presidential Élysée Palace pic.twitter.com/xFENWGCpv7

— POLITICO (@politico) June 21, 2019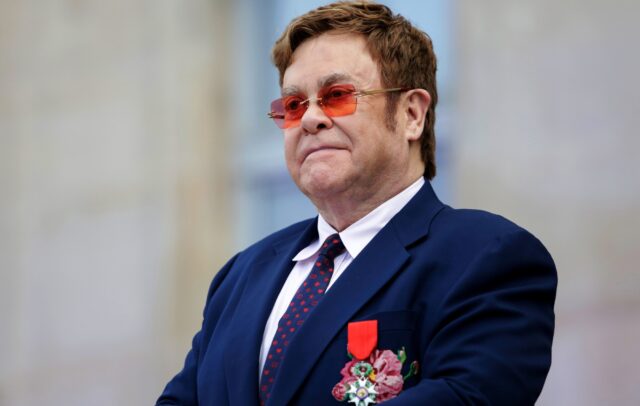 For more information about the various levels of the French Legion of Honour, we encourage you to read our earlier post on the honour.