"You just do it for the honour of the thing"
– The Valley of Fear (VALL)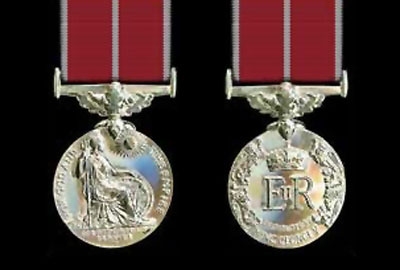 On December 27, 2019 the full 2020 New Years Honours List was announced. 315 people, out of 1,097 individuals on the entire list, were to become Medallists of the Order of the British Empire. In reviewing that list, we find the following entry:
Catherine Marie Cooke          For services to Libraries
Cooke is the Meetings Secretary for the Sherlock Holmes Society of London and received her investiture of "The Book of Life"in 1994 from the Baker Street Irregulars. She can now use the post-nominal letters "BEM."
The British Empire Medal for Meritorious Service was created in 1917 as part of the Order of the British Empire and was replaced, in 1922, with the current British Empire Medal. Created originally with military and civil classes, it has only been awarded to civilians since 2012.
Suspended from a rose-pink ribbon with pearl-grey edges, the medal's obverse features a seated Britannia while the reverse features the monogram of her majesty..
Congratulations to Ms.Cooke on this honour.
Thanks to the 13th Garrideb, Peter E.Blau, and to the 48th Garrideb, Roger Johnson, for alerting us to this news item.