Michael Palin Now a Knight Commander of the Order of St Michael and St George (KCMG)
"If you have a fancy to see your name in the next honours list"
– The Adventure of the Bruce-Partington Plans (BRUC)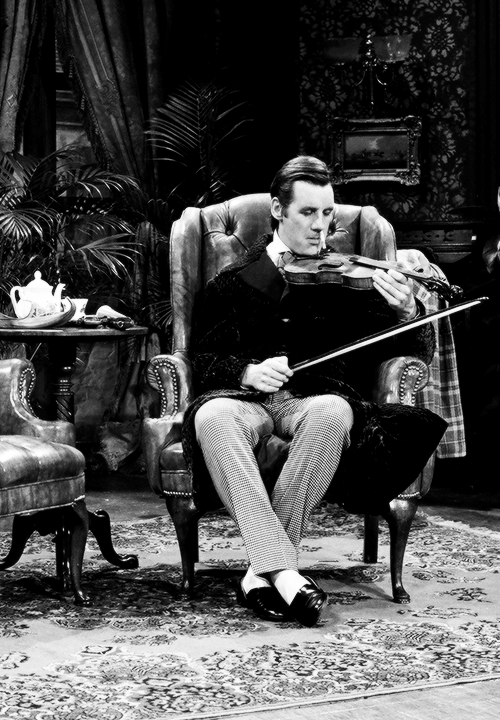 Monty Python's Michael Palin hosted the April 8, 1978 episode of Saturday Night Live and portrayed Holmes in a sketch
Michael Palin's name is familiar to fans of Monty Python, but many are not familiar with his brief connection to Sherlock Holmes. On the April 8, 1978 episode of Saturday Night Live, Palin was the guest host. During the episode, Palin portrayed Holmes in a sketch entitled "The Case of the Scarlet Membrane" and had a severe cocaine addiction. This would be the first time that Holmes was portrayed on SNL in the history of the show.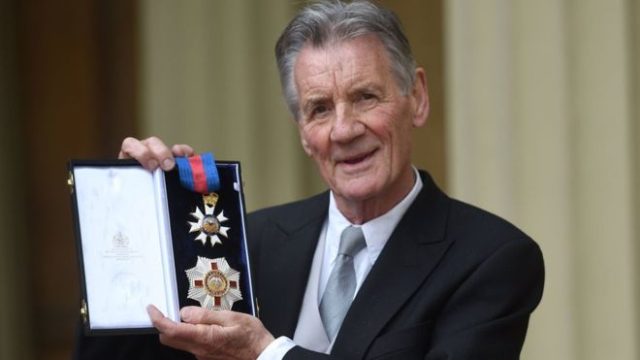 On December 28, 2018, it was announced that Palin had been appointed a Knight Commander of the Order of St Michael and St George (KCMG) for services to travel, culture and geography in the 2019 New Year Honours. He received his insignia this past June 13th.
The badge is the only insignia used by all members of the Order; it is suspended on a blue-crimson-blue ribbon. Knights Commanders and male Companions wear the badge from a ribbon around the neck; Dames Commanders and female Companions wear it from a bow on the left shoulder. The badge is a seven-armed, white-enamelled Maltese Cross); the obverse shows St. Michael trampling on Satan, while the reverse shows St. George on horseback killing a dragon, both within a dark blue ring bearing the motto of the Order.
The star is an insignia is worn pinned to the left breast. The Knight and Dame Grand Cross' star includes seven-armed, silver-rayed "Maltese Asterisk" (for want of a better description—see photo of badge), with a gold ray in between each pair of arms. The Knight and Dame Commander's star is a slightly smaller eight-pointed silver figure formed by two Maltese Crosses; it does not include any gold rays. In each case, the star bears a red cross of S.t George. In the center of the star is a dark blue ring bearing the motto of the Order. Within the ring is a representation of St. Michael trampling on Satan.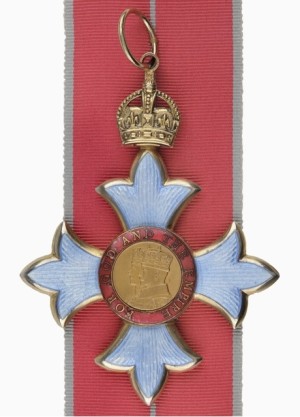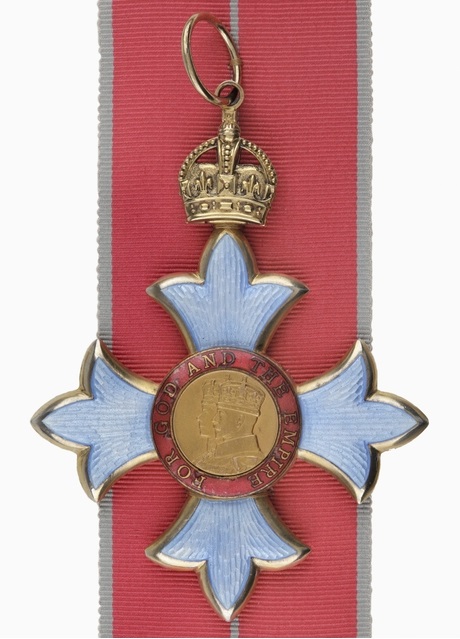 Palin had previously been appointed as a Commander of the Order of the British Empire (CBE) for services to television in the 2000 New Year Honours list. The badge for the CBE is in the form of a cross patonce (having the arms growing broader and floriated toward the end), the obverse of which bears the left facing busts of King George V and Queen Mary; the reverse bears George V's Royal and Imperial Cypher. Both are within a ring bearing the motto of the Order. The badges are enamelled with pale blue crosses and crimson ring, and is suspended from a ribbon that is rose-pink with pearl-grey edges, with the addition of a pearl-grey central stripe for the military division.
We are going to add that Palin's Monty Python costar, John Cleese, was offered a CBE back in 1996 and declined the honor. Cleese would portray Holmes in the 1977 film The Strange Case of the End of Civilization as We Know It.