Faces of Holmes: Peter Cushing
"… this man here – is an actor."
– The Adventure of Shoscombe Old Place (SHOS)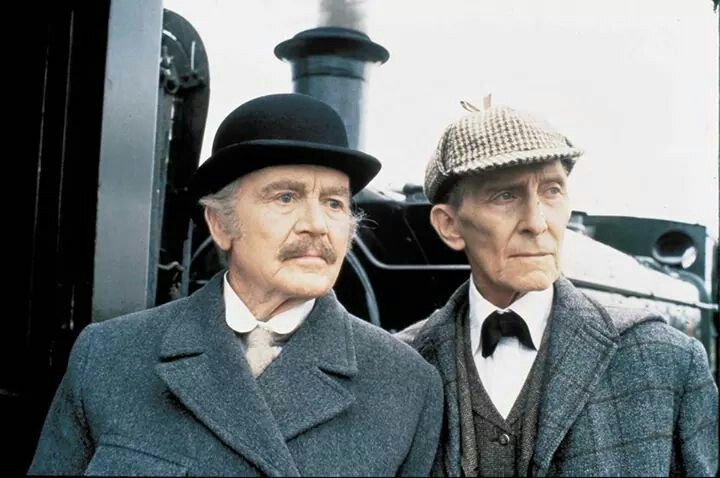 John Mills as Watson, Peter Cushing as Holmes in The Masks of Death (1984). This would be Cushing's last role as Holmes.
My first introduction to Peter Cushing was as Grand Moff Tarkin in a 1976 movie Star Wars. I would later become familiar with his horror movies and much later as Sherlock Holmes. You can read more about Cushing on his Wikipedia page and would definitely recommend checking out the Peter Cushing Appreciation Society for more detailed information about his career and life.
Cushing would first portray Sherlock Holmes in the 1959 Hammer version of The Hound of the Baskervilles. He would don the deerstalker again in 1968, when he took the role over from Douglas Wilmer for the second season of BBC's Sherlock Holmes series. The Sherlock Holmes Society of London goes into more detail about Cushing's Sherlockian career as well.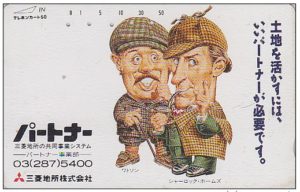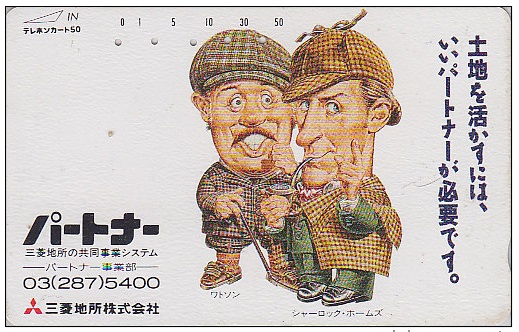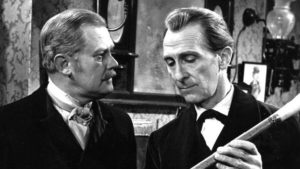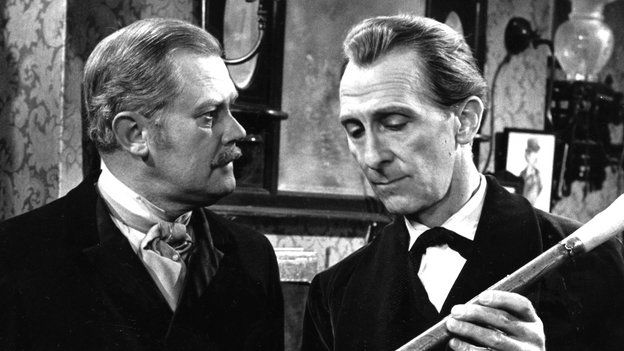 In January 2017, we discussed how this Japanese phone card looked very similar to Cushing and Nigel Stock from the television series. What do you think?
Cushing would last portray Holmes in the 1984 television movie The Masks of Death, with John Mills as Dr. Watson.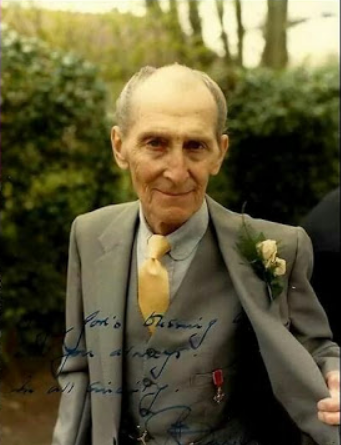 In 1989, Cushing would be honored as an Officer of the Most Excellent Order of the British Empire (OBE).
Cushing would later be quoted when asked about receiving the honour, "I suppose I am an incurable romantic, because I would like to have slain a dragon or saved the Queen's life, or done some other brave deed which would make me feel I really deserve this honour. But I love this country of ours and it's people so very much indeed annd am deeply proud of this recognition."
The badge for the OBE is in the form of a cross patonce (having the arms growing broader and floriated toward the end), the obverse of which bears the left facing busts of King George V and Queen Mary; the reverse bears George V's Royal and Imperial Cypher.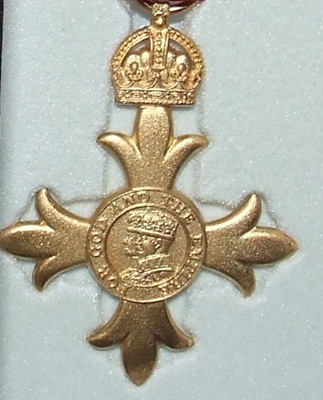 Both are within a ring bearing the motto of the Order. The badges are plain gold (unlike the enamelled CBE badge), and is suspended from a ribbon that is rose-pink with pearl-grey edges, with the addition of a pearl-grey central stripe for the military division.
Here is the trailer for the 1959 Hammer version of The Hound of the Baskervilles. Notice Christopher Lee as Sir Henry Baskerville in this film.
Peter Cushing as Holmes in The Boscombe Valley Mystery from the 1968 BBC series Sherlock Holmes.
Cushing would make a guest appearance in July 1969 on the Morecambe & Wise variety program. While Cushing would portray King Arthur in the sketch, there was some Sherlockian intrigue during the introduction.