Faces of Mycroft: Hugh Laurie
"If you have a fancy to see your name in the next honours list…"
– The Adventure of the Bruce-Partington Plans (BRUC)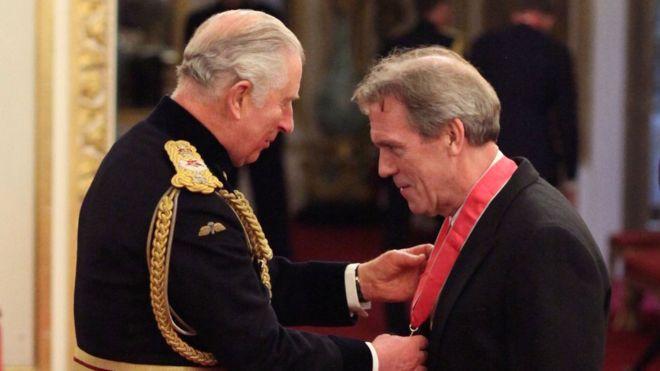 Prince Charles presents Hugh Laurie with his CBE, November 21, 2018
We share the following report from the BBC:
Hugh Laurie made a CBE by Prince Charles
Actor Hugh Laurie has been made a CBE by the Prince of Wales – the man whose royal ancestor he played as a foolish fop in Blackadder The Third.
Laurie was recognised in the New Year Honours for services to drama, having previously been made an OBE in 2007.
Known for his comedy partnership with Stephen Fry, the 59-year-old has also starred in House and The Night Manager.
For many, though, his most memorable character is George, the Prince Regent, in the third series of Blackadder.
Two years later, Laurie went on to play another upper-class twit named George in Blackadder Goes Forth.
Born in Oxford in 1959, Laurie studied at Cambridge, where he became president of the university's Footlights drama club and performed with the likes of Fry and Dame Emma Thompson.
He also took part in the 1980 Boat Race, which saw Cambridge narrowly beaten by arch rivals Oxford.
Laurie has appeared in such films as Maybe Baby and Stuart Little and will soon be seen as Mycroft Holmes in the comedy Holmes and Watson.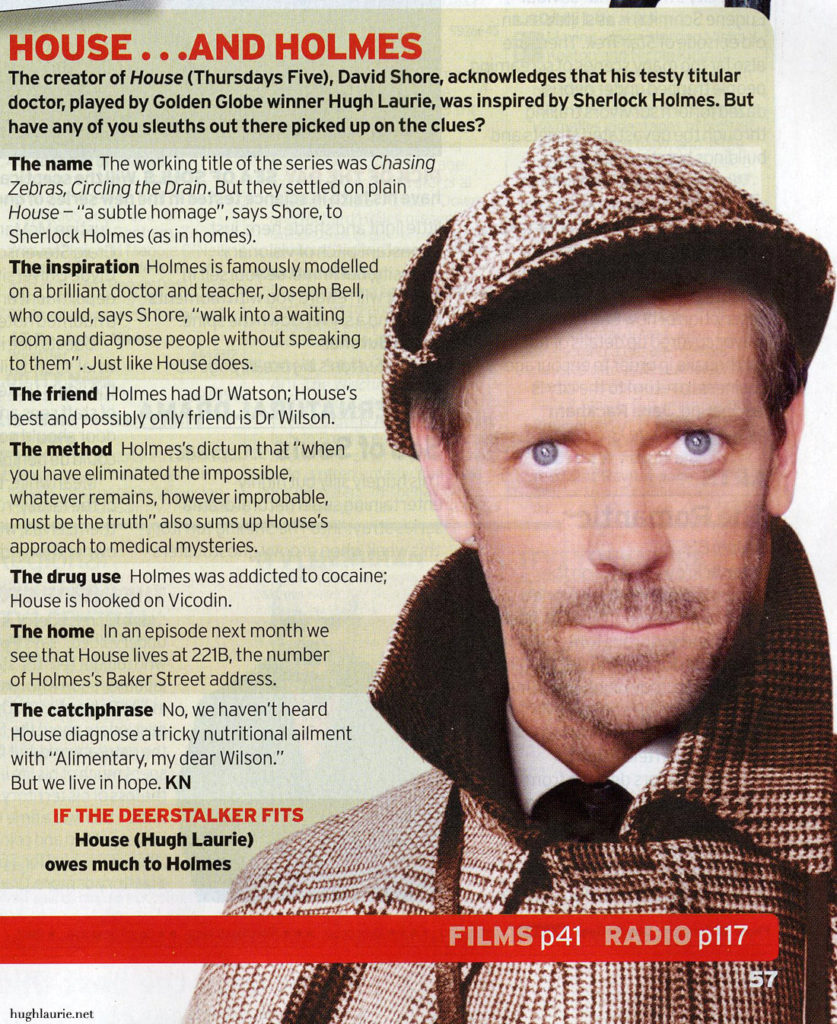 As the story mentions, he will soon be portraying Mycroft Holmes in the upcoming Holmes & Watson film that is being released on Christmas Day. In addition, he portrayed Holmes in a BBC Radio production of The Hound of the Baskervilles and there are many similarities to Sherlock Holmes with Laurie's character on the Fox television series House.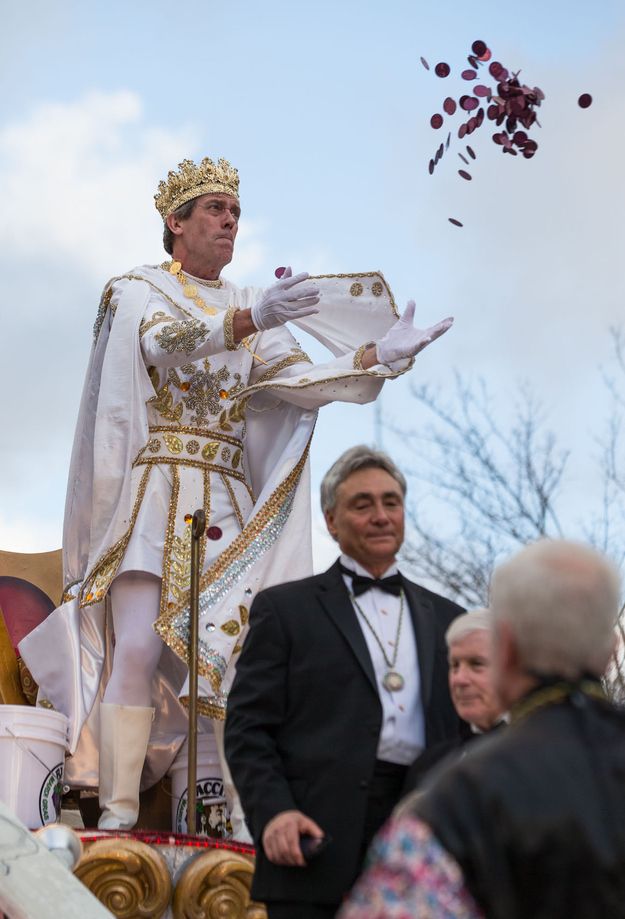 It was during Laurie's stint on House that he was honored in 2014 as the King of the Bacchus, one of the super-Krewes that celebrate Mardi Gras annually in the city of New Orleans. Two different Mardi Gras doubloons were produced by the Bacchus that honored their King that year.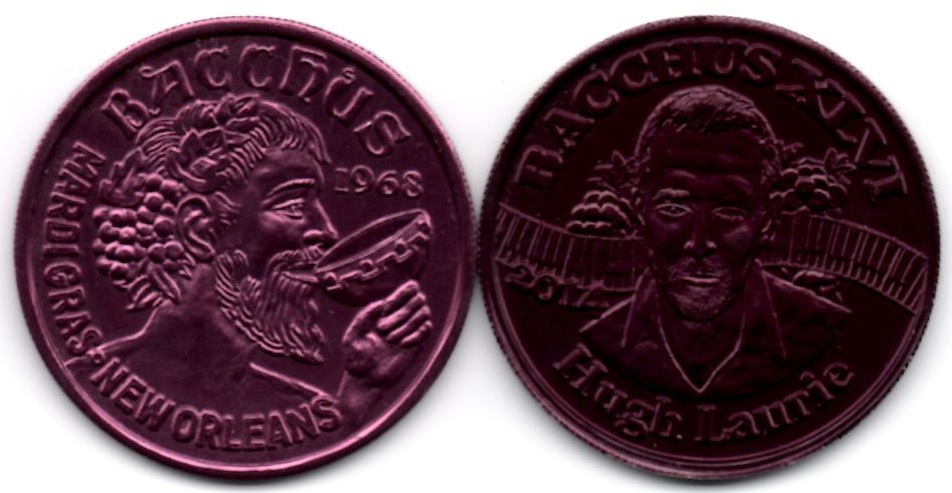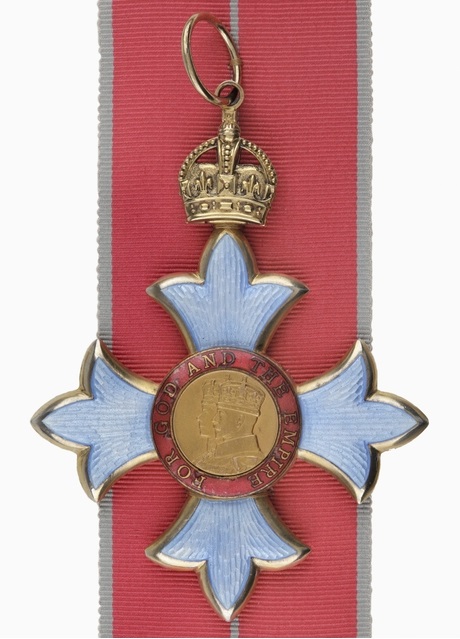 As for Laurie's honor as a Commander of the Most Excellent Order of the British Empire, the badge for the CBE is in the form of a cross patonce (having the arms growing broader and floriated toward the end), the obverse of which bears the left facing busts of King George V and Queen Mary; the reverse bears George V's Royal and Imperial Cypher. Both are within a ring bearing the motto of the Order. The badges are enamelled with pale blue crosses and crimson ring, and is suspended from a ribbon that is rose-pink with pearl-grey edges, with the addition of a pearl-grey central stripe for the military division.