Faces of Holmes: Charlton Heston
"… possible actors in this drama…"
– The Adventure of the Second Stain (SECO)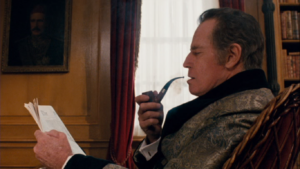 Charlton Heston as Holmes in The Crucifer of Blood
Charlton Heston was a prolific actor in Hollywood. Upon his death in 2008, noted film critic Roger Ebert commented, "Heston made at least three movies that almost everybody eventually sees: Ben-Hur, The Ten Commandments and Planet of the Apes."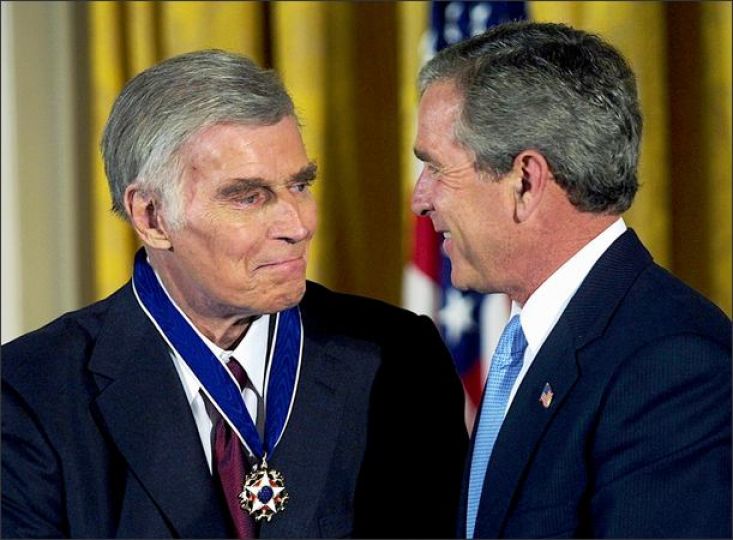 Heston receiving the Presidential Medal of Freedom from President George W. Bush in July, 2003
The Presidential Medal of Freedom badge is in the form of a golden star with white enamel, with a red enamel pentagon behind it; the central disc bears thirteen gold stars on a blue enamel background within a golden ring. Golden American bald eagles with spread wings stand between the points of the star. It is worn around the neck on a blue ribbon with white edge stripes.
The medal may also be worn in miniature form on a ribbon on the left chest, with a silver American bald eagle with spread wings on the ribbon. In addition, the medal is accompanied by a service ribbon for wear on military service uniform, a miniature medal pendant for wear on mess dress or civilian formal wear, and a lapel badge for wear on civilian clothes (all shown in the accompanying photograph of the full presentation set).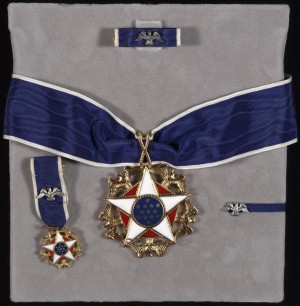 The Presidential Medal of Freedom was created by Executive Order of President John F. Kennedy in 1963 and was the first U.S. civilian neck decoration.
Below, we have a promotional trailer for the Turner