Faces of Holmes: Kirk Douglas
"… an incomparable actor"
– A Study in Scarlet (STUD)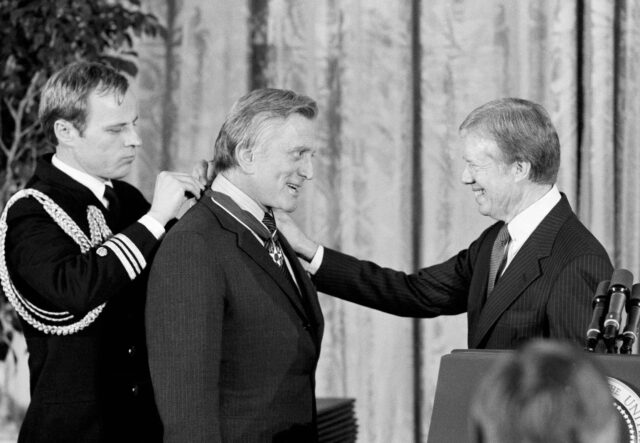 Actor Kirk Douglas passed away yesterday at the age of 103. A winner of an honorary Oscar trophy and the father of two time Oscar winning actor Michael Douglas, he was awarded the Presidential Medal of Freedom in 1981 by President Jimmy Carter.
The Presidential Medal of Freedom badge is in the form of a golden star with white enamel, with a red enamel pentagon behind it; the central disc bears thirteen gold stars on a blue enamel background within a golden ring. Golden American bald eagles with spread wings stand between the points of the star. It is worn around the neck on a blue ribbon with white edge stripes.
The medal may also be worn in miniature form on a ribbon on the left chest, with a silver American bald eagle with spread wings on the ribbon. In addition, the medal is accompanied by a service ribbon for wear on military service uniform, a miniature medal pendant for wear on mess dress or civilian formal wear, and a lapel badge for wear on civilian clothes (all shown in the accompanying photograph of the full presentation set).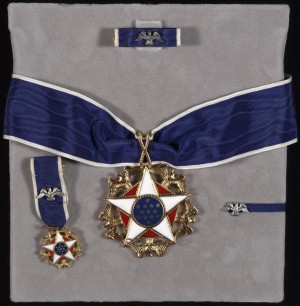 Other Presidential Medal of Freedom recipients with Sherlockian ties include Charlton Heston, Kareem Adbul Jabbar and Steven Spielberg . Why are we including Douglas among these names? In 1975, Douglas donned the deerstalker cap for this Maxim Coffee commercial in Japan.
.