The Numismatic Edgar Allan Poe Published by TFG
"You remind me of Edgar Allan Poe's Dupin."
– A Study in Scarlet (STUD)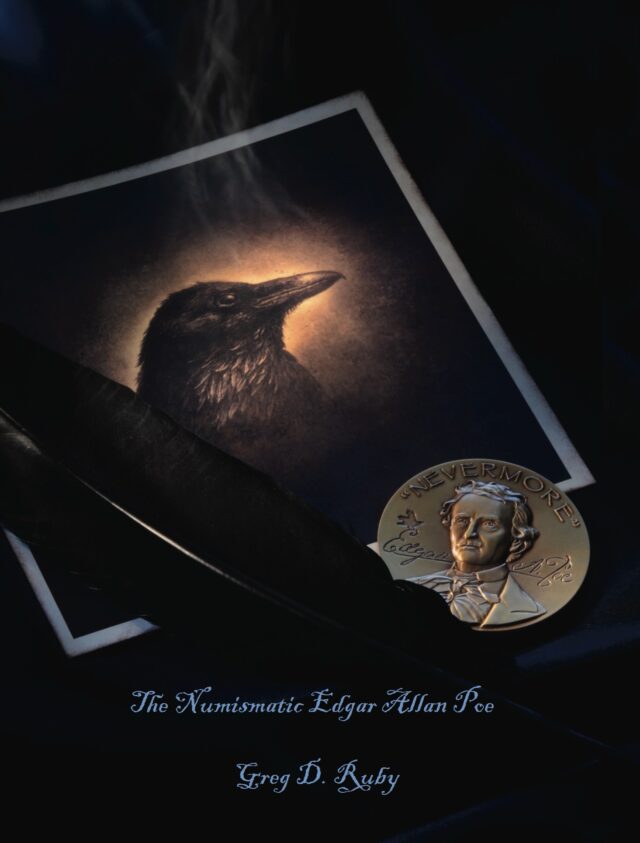 Arthur Conan Doyle acknowledged on several occasions that the detective fiction was created by Edgar Allan Poe. Doyle managed a reference to Poe in his first Holmes story, A Study in Scarlet. One of the very earliest of posts on this website was one referencing medals of Poe. Our friend, Wayne Homren, shared that post to the readers of The E-sylum and that led to a follow-up post. They remain among some of the most popular posts we have published.
One of the goals of our organization is to produce a catalog of numismatic items related to Sherlock Holmes, but we decided that we should "practice" first  and started working on The Numismatic Edgar Allan Poe to see what pitfalls and issues would come up. The 160 page 6″ x9″ paperback features over 50 numismatic items, plus sections for Hobo nickels, pathtags and other related items. In addition, we have included several related articles relating to Poe and numismatics.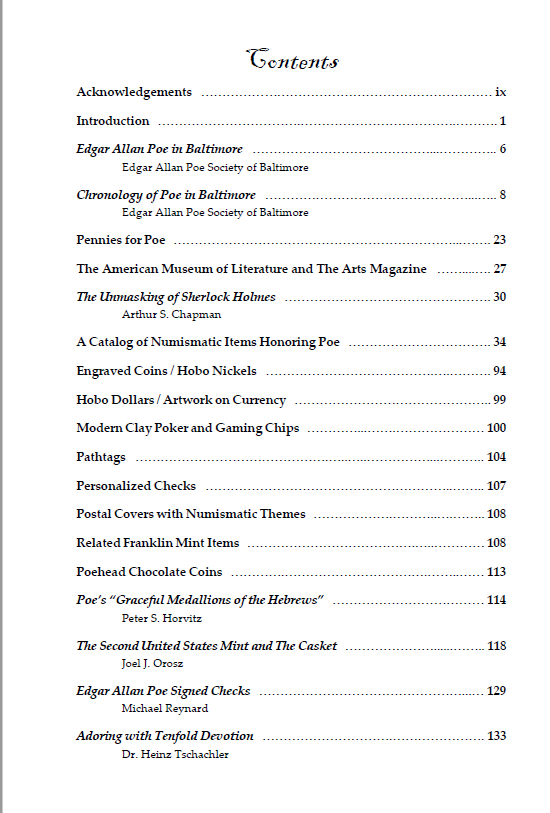 Wayne Homren was kind to review this work and had this to say about it:\
The range of Poe material is wide, spanning not just tokens and medals but also coins, badges, ingots and wooden money. I particularly liked the medals and commemorative and fantasy banknotes, many of which were quite well designed and executed. The book illustrates nearly every piece. Most are described in great detail and included are interesting diversions into related numismatic topics such as the under-construction second Mint of the United States and Poe's criticism of the 1849 gold dollar.
Contributors include NBS Historian Joel J. Orosz and Dr. Heinz Tschachler, author of the book The Monetary Imagination of Edgar Allan Poe – Banking, Currency and Politics in the Writings.
The Numismatic Edgar Allan Poe is far more than a straightforward catalog of items – it is quite readable and entertaining, holding quite a few tidbits of interesting numismatic information – ideal for the typical E-Sylum reader.
The paperback version will retail for $25 postpaid and will debut at the Sherloock Holmes Birthday Weekend in New York City next weekend, and will be available for shipping immediately afterwards. It can be ordered HERE.
Some folks have expressed interest in a hardbound version, so we have done that and it will include COLOR photographs of post of the items. It will retail for $50 postpaid and can be ordered HERE.
We are quite excited to be able to share this with everyone and it truly was a learning project. Now it is onto the Holmes catalog and the nearly 400 items that will make up that one!