Numismatic Remembrances of Edgar Allan Poe
"You remind me of Edgar Allan Poe's Dupin."
– A Study In Scarlet (STUD)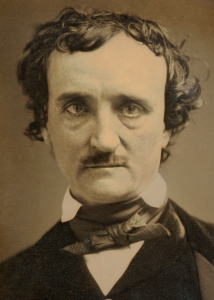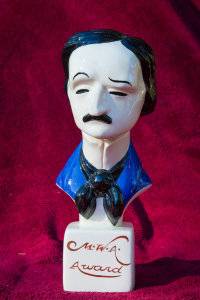 Edgar Allan Poe is widely credited as being one of the first to create detective fiction and the Mystery Writers of America has honored him by naming their annual awards after him – the Edgars.
Arthur Conan Doyle, in the very first Holmes story – A Study In Scarlet, pays homage to Poe's detective character of C. Auguste Dupin with the following dialogue:
'You remind me of Edgar Allan Poe's Dupin. I had no idea that such individuals did exist outside of stories.' 
Sherlock Holmes rose and lit his pipe. 'No doubt you think that you are complimenting me in comparing me to Dupin,' he observed. 'Now, in my opinion, Dupin was a very inferior fellow. That trick of his of breaking in on his friends' thoughts with an apropos remark after a quarter of an hour's silence is really very showy and superficial. He had some analytical genius, no doubt; but he was by no means such a phenomenon as Poe appeared to imagine.' 
'Have you read Gaboriau's works?' I asked. 'Does Lecoq come up to your idea of a detective?' Sherlock Holmes sniffed sardonically. Lecoq was a miserable bungler,' he said, in an angry voice; 'he had only one thing to recommend him, and that was his energy. That book made me positively ill.  The question was how to identify an unknown prisoner.  I could have done it in twenty-four hours.  Lecoq took six months or so.  It might be made a text-book for detectives to teach them what to avoid.' 
I felt rather indignant at having two characters whom I had admired treated in this cavalier style.  I walked over to the window, and stood looking out into the busy street.
In The Poe Encyclopedia by Frank and Magistrale, Doyle is quoted – "Each [of Poe's detective stories] is a root from which a whole literature has developed…. Where was the detective story until Poe breathed the breath of life into it?"
Poe was born January 19, 1809 in Boston and orphaned two years later. He would be taken in by the Allan family in Richmond.  Poe would attend one semester at the University of Virginia before dropping out and returning to Boston to enlist in the U.S. Army in 1827 under an assumed name. It was around this time that his first collection of poems would be published anonymously.
Over the next 20 years, Poe would move around the country several times trying to support himself as a writer and literary critic. His travels would take him to New York, Philadelphia, Baltimore, Providence and Richmond.
Poe was found wandering the streets of Baltimore in a delirious state in October of 1849 and was taken to a local hospital where he died on October 7th.  Theories for why Poe died are many and varied.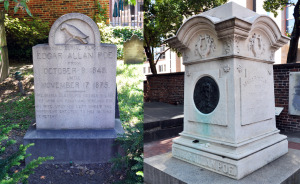 Poe also has a numismatic connection. His original grave in Baltimore's Westminster Hall and Burying Ground is marked by a simple headstone with an engraved raven. But in 1875, a Baltimore school teacher started a "Pennies for Poe" campaign to raise money for a more appropriate monument, resulting in the large marble monument where, to this day, visitors traditionally leave a penny.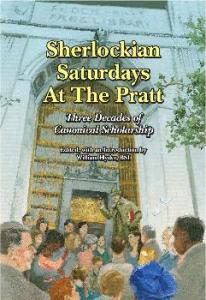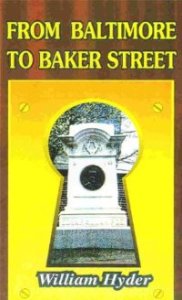 The Six Napoleons of Baltimore (one of this author's two home scions) has a history with Poe as well. There are stories of several Napoleons nearly being caught during a midnight visit to Poe's grave in the early days of the scion. In 2004, the long-time Harker of the Napoleons, Phillip Sherman, gave a program with his theory of the annual Mysterious Poe Toaster at the scion's annual Saturday with Sherlock Holmes at the Enoch Pratt Free Library. Several other papers on Poe have been presented over the 30 years of that program, two of which are included in the book Sherlockian Saturdays At The Pratt, which can be purchased here. William Hyder, until recently the Harker of the Six Napoleons, included the Poe monument on the cover of his excellent book From Baltimore To Baker Street, which can be purchased here.
Poe has not received much numismatic love, however…I am aware of only three medals honoring the author.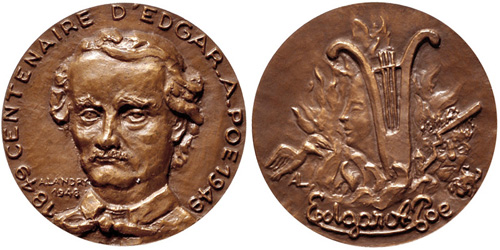 The first medal was issued in 1948 to commemorate the centennial of Poe's death and appears to be of a french origin.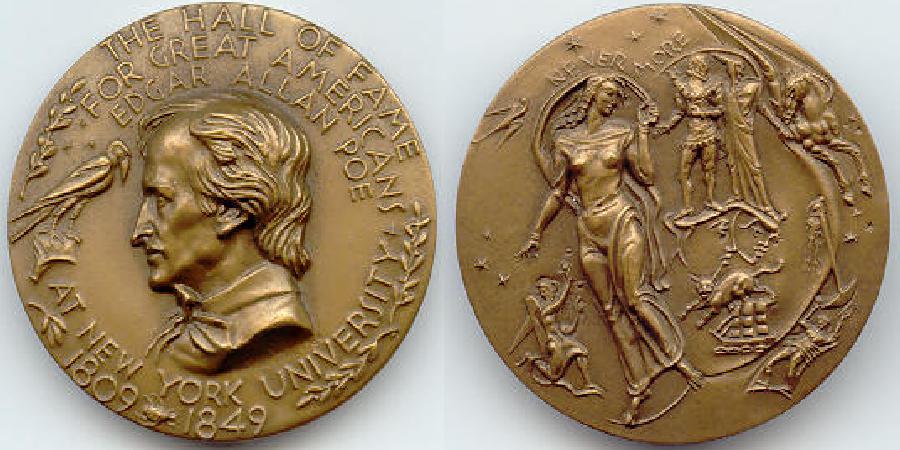 Poe was inducted into the Hall of Fame For Great Americans in 1910.  Located on what is now the campus of the Bronx Community College, his bust was unveiled on May 20, 1922. In another numismatic twist, his bust was designed by Daniel Chester French and was donated by J. Sanford Saltus.  French is known for designing the 1925 Lexington-Concord Sesquicentennial commemorative half dollar. Saltus was a generous benefactor for the American Numismatic Society and endowed the Saltus Medal Award in 1913 to reward sculptors "for distinguished achievement in the field of the art of the medal."
In 1962, the Medallic Art Company started striking a series of medals to honor the inductees. Poe's medal was designed by Michael Lantz and was struck in 1963. Medals were struck in two sizes. A large 3-inch (76mm) in bronze only, and a small 1¾-inch (44mm) size in bronze and silver. The silver medals were serially numbered.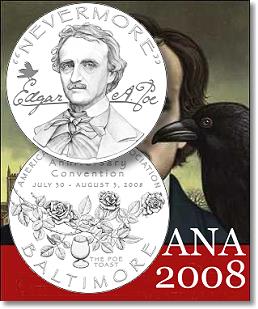 When the American Numismatic Association returned to Baltimore in 2008, they chose to honor Edgar Allan Poe on their convention medal designed by Jamie Franki.
Franki's design features a three-quarter view of Poe in high relief. The portrait on the obverse is inspired by an oil painting by Baltimore artist Oscar Halling and "informed by every image I could find," said Franki. The word, "Nevermore," immortalized in The Raven, circles the edge above Poe's head and a small incused silhouette of a raven is perched on his signature, which was taken from an archival scan.
The reverse tells the tale of the annual "Poe Toast," where for each of the past 59 years on Poe's birthday, a black-clad figure visits the gravesite and raises a cognac toast. The toaster then leaves a half-bottle of cognac and three roses on the grave. The tradition of the Poe Toaster has apparently stopped after the bicentennial of Poe's birth in 2009.
Franki, who has designed a number of medals for a variety of organizations, worked as a Master Designer in the U.S. Mint Artistic Infusion Program from 2004-2006. His designs were chosen for two coins in the Westward Journey Nickel Series: the 2005 American Bison nickel reverse, and the 2006 Jefferson 1800 nickel obverse.
Only 125 ANA convention bronze medals were struck, along with 150 two-medal sets (bronze and silver) and 125 convention medal badges.
 UPDATE 11/22/2014 – See our post More Numismatic Remembrances of Edgar Allan Poe