More Numismatic Remembrances of Edgar Allan Poe
"You remind me of Edgar Allan Poe's Dupin."
– A Study In Scarlet (STUD)
Our post on the medals of Edgar Allan Poe has garnered some conversations in other areas of numismatics and literature.
Herb Moskovitz of Mycroft's League of Philadelphia included the article and link in his Poeiana email newsletter. Gabriel McKee commented to our original post about the Grolier's Club Poe medal, which is described in more detail further down in this post.
Wayne Homren excerpted portions of the original post in the November 2nd issue of The E-Sylum, which generated several responses in the November 9th issue and are posted here:
MORE NUMISMATIC REMEMBRANCES OF EDGAR ALLAN POE
Dave Alexander writes: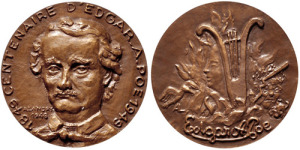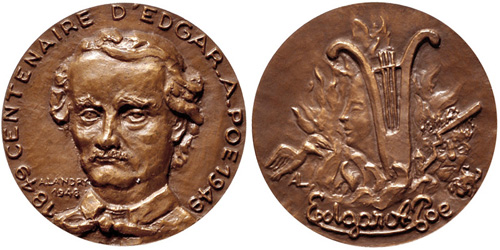 The artist who created the Monnaie de Paris medal of Edgar Allan Poe was Annette Landry (born 1907). She placed elements of Poe's poetry and prose on her reverse, notably references to Annabelle Lee and Ulalume. The corbeau or raven is the mysterious bird with the one-word vocabulary, "Nevermore."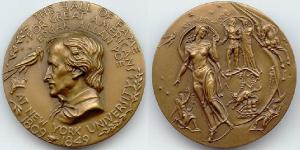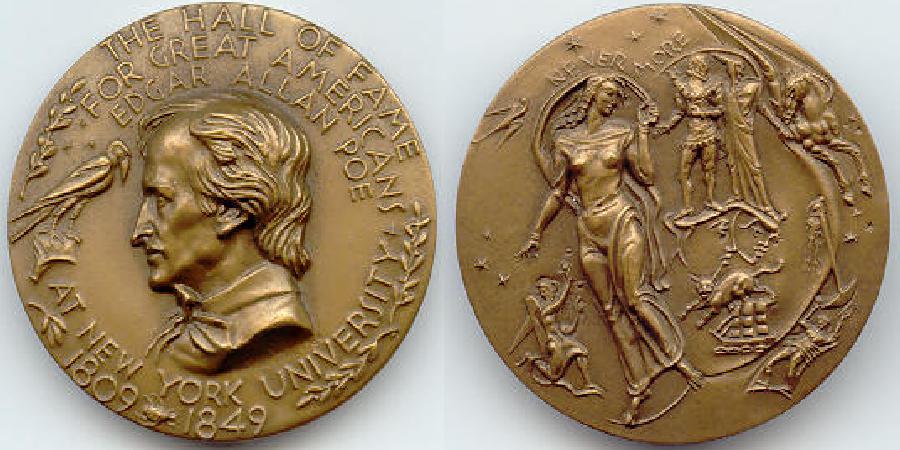 The Hall of Fame for Great Americans (HOF) Poe medal by Michael Lantz was an artistic triumph with amazingly high relief. Little known to many of today's collectors, the HOF series was an artistic triumph but a commercial failure of monumental proportions.
Scott Miller writes:
Regarding medallic representations of Edgar Allan Poe, there is also a 1909 bronze plaque published by the Grolier Club by Edith Woodman Burroughs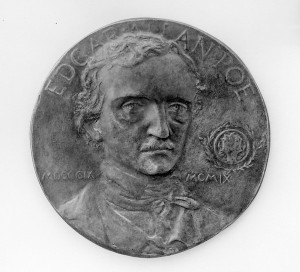 Grolier Club Memorial of Edgar Allan Poe
Edith Woodman Burroughs (American, Riverdale, New York 1871–1916 Flushing, New York)
Date: 1909
Medium: Bronze
Dimensions: Diam. 7 in. (17.8 cm)
Classification: Sculpture
Credit Line: Gift of R. T. Haines Halsey, 1909
Accession Number: 09.116
For more information, see:
Grolier Club Memorial of Edgar Allan Poe(www.metmuseum.org/collection/the-collection-online/search/14676)
Joe Levine also cites this plaque – he provided the following three items not listed in the previous article. Thanks! -Editor
EDGAR ALLAN POE GROLIER CLUB PLAQUE, 1911. Storer 2009. 178mm. Cast Bronze. Edith Woodman Burroughs, Sc. Cast by Roman Bronze Works, NYC. (Edge incused R.B.W./ N.Y.) EDGAR ALLAN POE above a front facing bust of Poe dividing the Roman numeral dates of 1809 and 1909. The seal of the Grolier Club is in the middle right field.
According to the records of the club, 277 copies were cast in bronze and 3 in silvered. (G)
PORTRAIT PLAQUE OF EDGAR ALLAN POE, 1913. 7″ . Cast Bronzed White metal. Jeno Jusko, Sc. (Metal Products Mfg. Co., NYC. Mounted on a 9 1/4 x 12" wooden board. Here is a handsome high relief front facing bust of the famous author; his facsimile signature in the left field.
This is one of thirty three medallic plaques issued by Thomas Elder in a series he entitled "MEDALLIONS OF "THE IMMORTALS." The medallions, all of which came from the talented hand of Jeno Juszko, were made of "Corinthian bronze" (actually bronzed white metal) and were issued "solidly riveted to handsome solid walnut panels." They were made in three sizes; 13″ mounted on a 16×19″ panel ($10.00); 7″, mounted on a 9 1/2 x 12″ panel ($5.00) , and 4″ on a 6 1/2 x 8 1/2″ panel ($1.50) .
EDGAR ALLAN POE PLAQUETTE, 1988. 126 x 149.5mm. Bronze. Alex Shagin, Sc. This intriguing work is shaped like an open book with a haunting portrait of Poe on the left page and his name, "Edgar/ Allan/ POE on the right. The reverse is enigmatic. A brick wall is shown on the left with the inscription OPUS/ARTUM at lower left. A manacled hand with a chain leading to the bars of a cell is depicted on the right. We asked Mr. Shagin for its meaning and he replied, "mini-monument." "The face, the hand… you guess the rest."
Our guess is that the reverse is as allusion to Poe's The Pit and the Pendulum" Shagin states that he has sold "about 40" of these.
To read the earlier E-Sylum article, see:
NUMISMATIC REMEMBRANCES OF EDGAR ALLAN POE(www.coinbooks.org/esylum_v17n45a22.html)
The following week's edition of The E-Sylum featured correspondence from Coin World's Jeff Starck:
The subject of Edgar Allan Poe in numismatics is a fascinating one – I wrote an article about the various medals honoring him, and include the Grolier and Landry pieces, as well as several others, concluding with the ANA's 2008 medal for the World's Fair Of Money in Baltimore.
The article appears in the Dec. 21, 2009, issue. I'd be delighted to send a copy to anyone sending a SASE to me at Amos Media, P.O. Box 150, Sidney, OH 45365.
Is anyone else aware of any other Edgar Allan Poe numismatic items out there?