1994 Spain 10 Peseta Coin Honors Sarasate
"'Sarasate plays at the St. James's Hall this afternoon'…"
– The Red Headed League (REDH)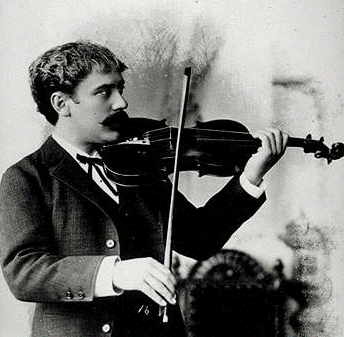 Pablo Martín Melitón de Sarasate y Navascués was born in Pamplona, Spain in 1844 and began studying the violin when he was five years old. Performing publicly at the age of eight, he was recognized as a prodigy and sent off to Madrid for further studies. Starting in 1860, he would tour the world as a concert violinist. Sarasate was also known for writing music that demonstrate his technique for the violin, such as Zigeunerweisen, his best known work. Sarasate would pass away in France in 1908 from bronchitis.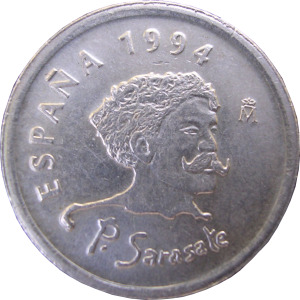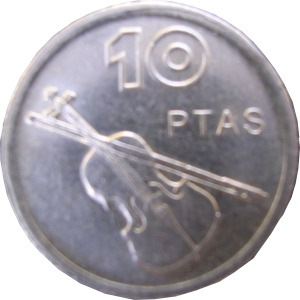 In 1994, Spain would issue a 10 Peseta coin honoring the 150th anniversary of Sarasate's birth. 3,850,000 of the coins were stuck at the Royal Spanish Mint. The Madrid mintmark can be seen to the right of Sarasate's portrait. This coin was demonetized on February 28, 2002
18.5 mm, Round, Copper-Nickel, Reeded Edge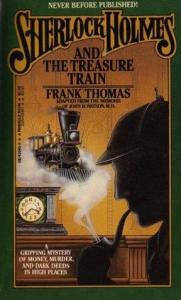 In addition to Holmes and Watson attending an afternoon concert of Sarasate in The Red Headed League, Holmes also attends another concert of his in Frank Thomas' pastiche, Sherlock Holmes and The Treasure Train. Sarasate is also a prominent character in Anthony Burgess' pastiche Murder to Music.
Is anyone else aware of any other circulating coins showing people (other than heads of state) named in the Canon?
We are fortunate that, in 1904, Sarasate recorded several of his musical compositions.  Below is the recording of his 1904 performance of Zigeunerweisen.