TFG Issues 2015 Medal, Lapel Pin
" … when I should have had a medal the size of a soup plate."
– The Adventure of The Three Garridebs (3GAR)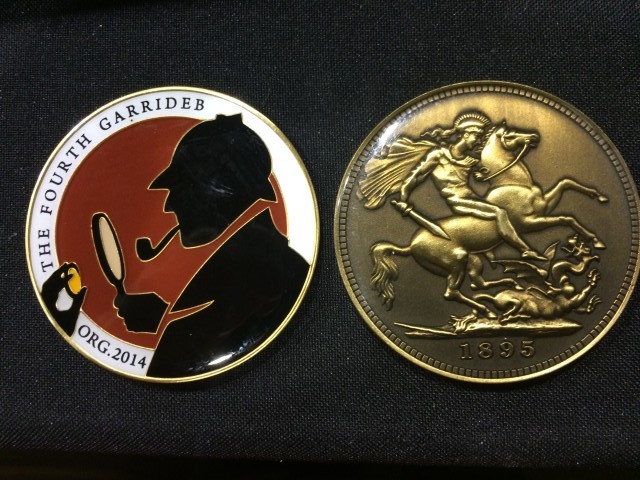 At our recent annual meeting in Chicago during the American Numismatic Association's World's Fair of Money, the newly issued lapel pin and 2015 medal for The Fourth Garrideb were revealed.
The 2 inch medal features the colorful TFG club logo on the obverse,  while the reverse features Pettrucci's St. George slaying the dragon design that would be featured on sovereigns and crowns of Queen Victoria. The design features the date of 1895, as it is "always 1895" in the Sherlockian world.  Only 100 of the medals were made.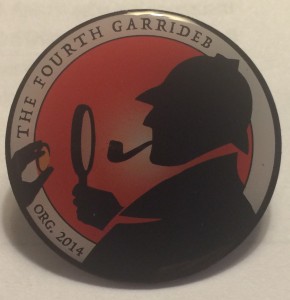 Also unveiled at the World's Fair of Money was our club lapel pin.  The 1.25″ pin also features the TFG logo and has a military clutch pin back to back sure the pin stays attached to your clothing.  One hundred pins were ordered.
The medal sells for $20 and the lapel pin sells for $10. Shipping and handling is included in the price.
The Fourth Garrideb now has an online shop where these fabulous items can be ordered. You can click on the word SHOP that now appears in the menu bar at the top of the website, or you can CLICK HERE to be taken to the shop page.
The shop feature is new to our website and we believe we have tested it thoroughly.  If you have any issues at all, please let us know by sending us an email detailing the issues.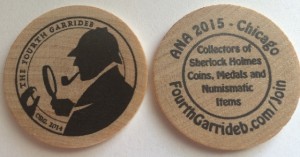 All orders for the 2015 TFG medal or lapel pin will also receive (while supplies last) one of TFG's wooden nickels that were distributed at this year's ANA Convention.