Answers to The Inquisition: The Dancing Men
"… she wrote an answer under one of them."
– The Adventure of The Dancing Men (DANC)

We are at the end of August and it is time for our Inquisitor, Denny Dobry, to provide us the answers to this month's quiz – each monthly quiz is on the featured story of the month and this month was The Adventure of The Dancing Men. We now present the ANSWERS after the question in BOLD text. Page numbers, after the answers, refer to Doubleday's Complete Sherlock Holmes.
1.  Where did the first three messages appear? Window sill (Page 513); Sundial (Page 513) and the black wooden tool-house door (Page 515).
2.  What two things caused Holmes to be too late to prevent the tragedy? The return wire from New York took 2 days (Page 516) and they missed the last train to North Walsham (Page 517).
3.  What non-masculine sounding object did Holmes employ? A Pocketbook (Page 512).
4.  What did Elsie first suggest to her husband to avoid being bothered by the messages? To travel away together (Page 515).
5.  What expression did Abe Slaney use to describe himself as armed? He said he was 'heeled' (Page 525).
6.  What physical feature did Hilton Cubitt have in common with a Canonical museum frequenter? Henry Baker (BLUE) and Cubitt both had big heads (Page 513).
7.  What part of Slaney's attire brings to mind the Americas? His Panama hat (Page 524).   
8.  How many Chicago gang members were there? Seven (Page 525).
There were a total of 11 possible answers to the 8 questions. How did you do?Next month, our quiz will be on The Adventure of The Golden Pince Nez.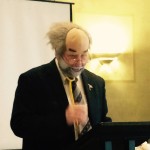 Denny Dobry is the Quiz Master of The Fourth Garrideb and the John H Watson Society. At times, he has been known to impersonate another member from both of these organizations, Dr. Robert S. Katz. According to some, he does a better version of Bob than the original.  Denny was the individual winner in 2013 and 2014 of the JHWS' Treasure Hunt. Will he make it a three-peat in 2015? Check back here next month to find out!