Somogyi Creates Sherlock Holmes Centennial Medal (1987)
"… But you'll always find scratches round a keyhole."
– The Adventure of the Golden Pince Nez (GOLD)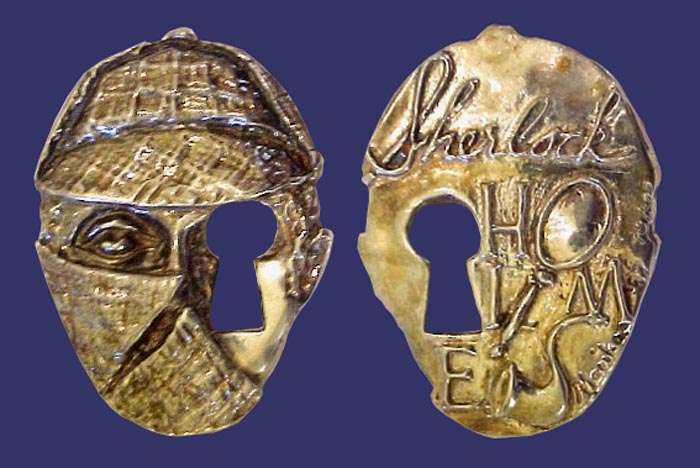 Reprinted from the December 1987 issue of The Numismatist
In honor of the centennial of the introduction of Sherlock Holmes by Sir Arthur Conan Doyle, Marika Somogyi has added her name to the list of Sherlockian interpreters with an imaginative free-form commemorative medal.
Holmes' first adventure, "A Study In Scarlet,' appeared in print in Beeton's Christmas Annual in 1887. While Doyle received only £25 and the story attracted little notice, Sherlock Holmes took his first step toward becoming one of the most famous fictional characters ever created. Numerous artists and actors have portrayed the great detective as Doyle described him in the first Holmes story: "a man with a thin hawk-like nose, piercing eyes, and so excessively lean that he seemed even taller than his actual six feet."
Somogyi has created an innovative medal in the shape of Holmes' face, wearing the familiar deer-stalker cap, with upturned collar covering the lower portion of his face, a keyhole pierces the area around his left eye. On the reverse, SHERLOCK is inscribed in script letters, while HOLMES appears in upper case print, with a magnifying glass forming the "O" and his famous curved pipe the "S."
The medal measures 2 1/8 by 1 5/8 inches; the sterling silver version weighs about 2 troy ounces and the 14kt-gold about 2 1/2 troy ounces. Each is serially numbered and carries the artist's signature. Quantities are limited to 300 silver and 35 gold specimens, priced at $99.50 and $995 respectively (subject to change if the price of gold exceeds $485 per ounce). The medal can be ordered with an optional suspension loop so that it may be used as a pendant or watch fob.
Orders for the Sherlock Holmes Centennial medal should be sent to the exclusive distributor, Numismarketing Associates, 5189 Jeffdale Ave., Woodland Hills, CA 91364. Since each medal is produced by the classic lost-wax method, hand-finished and antiqued, please allow about 60 days for delivery.
Originally published in the December 1987 issue of The Numismatist (Volume 100, Number 12, page 2544), official publication of the American Numismatic Association.