"Why not give ourselves up to the unrestrained enjoyment of the present?"
– The Adventure of fhe Mazarin Stone (MAZA)

Several years ago, we first reported on the Jerrry Lewis Enjoyment Certificates that promoted his 1962 film, It's Only Money.  The $1,000 note features Lewis donning a deerstalker cap, and all of the notes features an area that can be imprinted with a message.
We  have come across our first $1,000 note with an imprint for the Nebraska Theatre, apparenetly done via a rubber stamp in blue ink.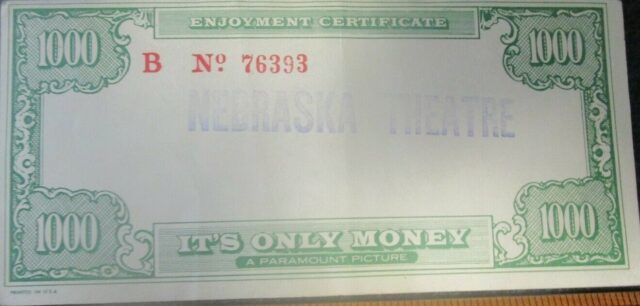 Using the Cinema Treasures website, we found two Nebraska Thetres in Nebraska – one in Omaha and another in Lincoln. Since the Omaha theatre has apparently closed in the mid 1940s; we are fairly confident that these notes were issue by the Nebraska Theatre, located  at 1146 P Street in Lincoln. Cinema Treasures reported that:
Opened in 1915 as the Orpheum Theatre, it was designed by architect Carl Boller. It was operated by the Orpheum Circuit. The theatre was completely remodeled by architect Robert Boller and reopened on March 30, 1939 as the Nebraska Theatre.
It was closed May 4, 1971 and demolished in 1972.
Surely, with the number of movie houses that showed this movie, combined with this promotion, it is logical to presume that imprinted notes exist for other theaters. Have you come across any? Let us know if you do!