Sherlockian Themed Jerry Lewis Enjoyment Certificates
"You are a funny one …"
– The Man with the Twisted Lip (TWIS)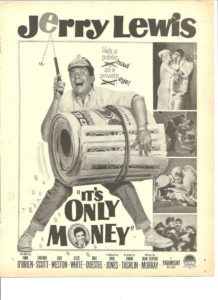 Two years ago, we discussed Jerry Lewis being awarded the French Legion of Honour and briefly discussed his work in the movie It's Only Money. For some of the marketing items for that movie, Jerry Lewis is very clearly seen wearing a deerstalker cap.
We now have a numismatic item promoting the movie that has Lewis wearing the deerstalker cap. Paramount Studios produced a merchandising manual and press book for the movie. In this manual, the two pages discuss a "Funny Money Give-Away:"
HOW  FUNNY MONEY WILL WORK FOR YOU
The title "IT'S ONLY MONEY" lends itself perfectly for a FUNNY MONEY GIVE-AWAY. FUNNY MONEY is a tried and proven promotional gimmick and these are bound to be SUPER-SUCCESSFUL because they're so new and different!
YOUR JERRY LEWIS FUNNY MONEY has been printed to resemble American currency in size, color, design and layout. There are five different denominations, each featuring a picture of Jerry Lewis as George Washington, Alexander Hamilton, Andrew Johnson, Abraham Lincoln and the private-eye he portrays in "IT'S ONLY MONEY". The FUNNY MONEY is eye-catching because of its inherent humor and similarity to real currency, and can create considerable interest for "IT'S ONLY MONEY" on that score alone.
But here's an "extra something" that can really make your FUNNY MONEY a smashing promotional success! The reverse side of each bill continues the currency motif, and includes a serial number and a place for your theatre imprint. This serial number can be used for an endless number of contests, give-aways and promotions, and all the while, it will sell "IT'S ONLY MONEY" at your theatre.
After offering 30 ways for the theatre operator to use their funny money for promotions, we learn that the cost is $14 per set of 2,500. The minimum order is 2,500, which would contain 500 of each of the 5 notes. The notes would be purchased from the Brooklyn, New York firm of Morris Rosenberg and Son.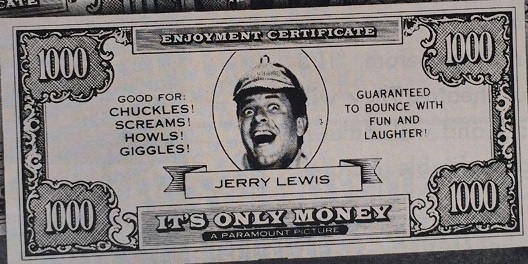 With these notes having the ability to have the participating theatre's imprint, it is theoretically possible that there are hundreds of different varieties of each note that may have survived the last 50+ years from all the venues that showed the film. Your editor recalls seeing a 5 unit Lincoln note being offered for sale at an online auction service about a year ago, but did not pay any attention to it at the time.
If you happen to possess one of the 1,000 unit certificates with Jerry Lewis wearing the deerstalker cap, your Editor would very much like to hear from you to get a photograph of the back of the note and determine which theatre issued the note.
UPDATE: April 1 , 2017 We have received a picture of one of the $1,000 bills and, of course, this example does not have an imprint on the back of the note.