HolmeWork Assignment: The Imperial Theatre $5 Advertising Note
"We were to go to the theatre."
– The Adventure of the Bruce-Partington Plans (BRUC)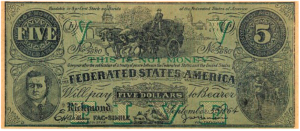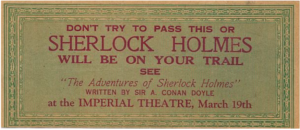 In the late 19th and early 20th century, it was somewhat common to see advertisements on what seemed at first glance to be an old Confederate States of America banknote. Our next HolmeWork assignment is one of those examples and was brought to our attention by the 13th Garrideb, Peter E. Blau, in the February 2017 issue of Scuttlebutt from the Spermaceti Press.
Jennie Paton has found an interesting example of Sherlockian publicity: a facsimile five-dollar bill promoting "The Adventure of Sherlock Holmes" at the Imperial Theatre. We'd be delighted to hear from anyone who can identify when and where and why it was used.
It's very possible that there are other examples of these notes for other versions of plays and productions of Sherlock Holmes. We have discussed before other scrip notes for other movies with a Sherlockian theme.
For those interested in researching this further, the website Cinema Treasures has a database of 91 theatres that are or were named the Imperial Theatre.