The Elementary, My Dear Watson Medal
You know that Holmes never uttered that phrase in the 60 stories of the Canon.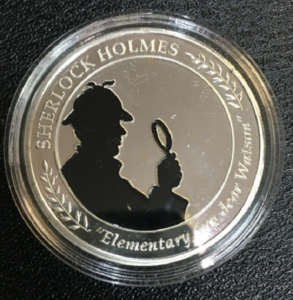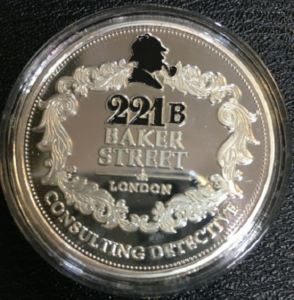 We've been trying to grab usuable photos of this medal for over two years and have finally succeeded. We first became aware of this medal in April of 2018, so we believe this medal was struck in 2017 or earlier.
OBVERSE: SHERLOCK HOLMES (branch with leaves) / (right-facing profile of Holmes in cape & cap, with magnifying glass) / (branch with leaves) "Elementary, my dear Watson"
REVERSE: (bust of Holmes, facing right, with cap and pipe, overlaying a wreath) / 221B / BAKER / STREET / (line and triangle symbol) / LONDON / CONSULTING DETECTIVE
Brass, 40mm, Round
We believe this medal  is marketed by the Sherlock Holmes Museum in London, as the reverse design features some of the same elements as other medals we believe were also sold by the Sherlock Holmes Museum that you can read in this POST. We really cannot be sure at this time, as their shop website has been being restocked continually since August of 2014 (with monthly checks by us) and we given up contacting them due to lack of responses. We give our reasons for why we are confident these medals are from the Sherlock Holmes Museum in the previous post.
We've also noticed the application of the black enamel on some of the design elements is uneven and spotty on the example we inspected on both sides. The Holmes profile on the obverse has some imperfections whey you inspect the coin very closely. and there are some very small  drops on the reverse side.
Overall, it is a very attractive medal, however.