Faces of Holmes: Charlie McCarthy, Detective
"… all were equally puppets in his hands."
– The Adventure of the Solitary Cyclist (SOLI)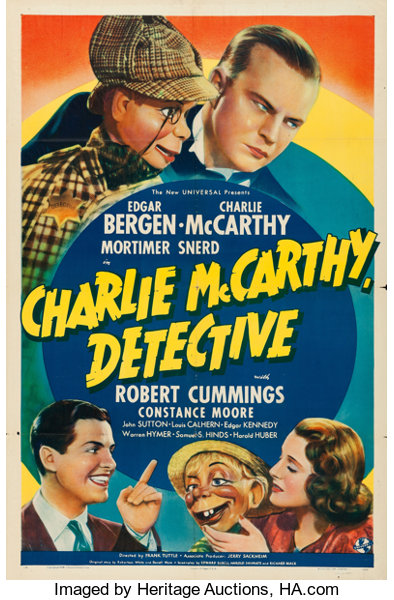 Comedian and actor Edgar Berggren was born in Chicago in 1903. Begining at the age of 11, Edgar began to self-learn ventriliquism and during his late teenage years would be given daily lessons by the famed ventriloquist Harry Lester for several months. In late 1919, Edgar paid Chicago woodcarver Theodore Mack $36 to sculpt a likeness that would become known as the puppet Charlie McCarthy. Edgar would construct the remainder of the body for the uppet. After beginning to perform in various Vaudeville theaters, Edgar would drop the "gr" from his last name and be known as Bergen.
Beginning in May 1937, Bergen and McCarthy would become regular performers on National Broadcasting Company's Chase and Sanborn Hour. Early on, in the August 1, 1937, episode, they appeared in a sketch billed as  "Sherlock McCarthy." You can listen to that entire episode, with the sketch beginning after 3:00 the mark, below.
The duo of McCarthy and Bergen were quite popular and would remain on NBC's airwaves through the end of 1948. On the January 30, 1944 episode, Basil Rathbone was a guest on the show in his role as Sherlock Holmes. You can listen to that broadcast below.
Beginnng in 1938, McCarthy and Bergen would begin appearing in many movies. Their fourth film, Charlie McCarthy, Detective, was released in 1939 by Universial Studios. At the top of this post, we have a poster for the movie. You can view the movie by clicking HERE.
Active throughout the 1950s, 1960s, annd 1970s, Bergen announced he would retire with a series of shows at Caesar's Palace in Las Vegas in September, 1978.Three days after his last show, Bergen died on September 30, 1978.  Charlie McCarthy was donated to the Smithsonian Institute's National Museum of American History.
During the 1950s, a number of games and other merchandise were sold capitalizing on tje popularity of Charlie McCarthy. One of those items were packs of play money containing 20 of these bills.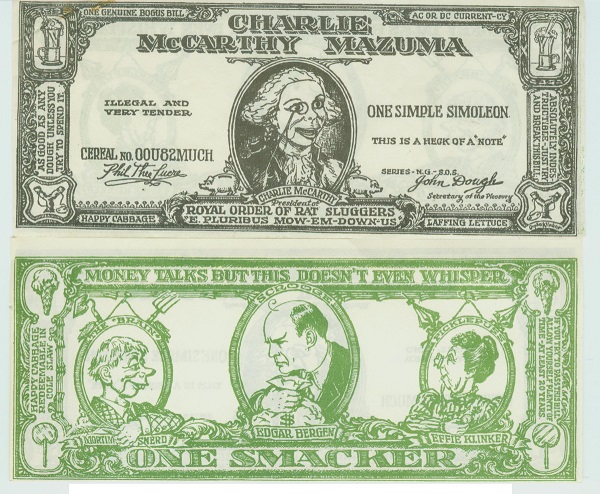 Also, these Seventy-Five cent pieces made featuring McCarthy on one side and Mortimer Snerd on the other side. There was one slight problem – they could be spend in vending machines as they were the same size as a regular circulating quarter dollar. The Secret Service had a conversation with Bergen and they stopped marketing these.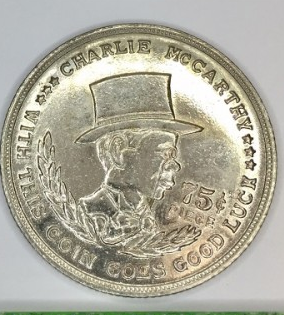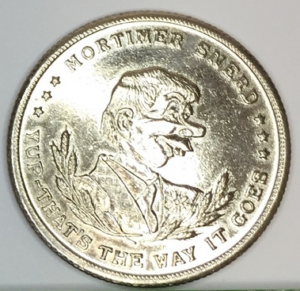 While these items are not Sherlockian, they are rather interesting to view.
Play Money and Token Pictures are from Todd LadShaw Magic