Answers To The Inquisition: A Study In Scarlet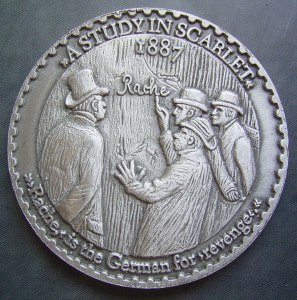 May was our second month that we presented our Inquisitor, Denny Dobry's, killer quizzes – each quiz will be on the featured story of the month and this month was A Study In Scarlet. We now present the ANSWERS after the question in BOLD text. Page numbers, after the answers, refer to Doubleday's Complete Sherlock Holmes.
1. Name three institutions at which Dr. Watson learned his trade.  University of London, Netley (Page 15) and St. Bart's (Page 16)
2. Of what Scarlet-eyed creature was Drebber apparently fond? 'Gold pin- bull-dog's head, with rubies as eyes.'  (Page 30)
3. Okay Numismatists – What was the approximate equivalent of Watson's 11s/6p income in 1881 and 2011 US Dollars? 1881 – $3;   2011 – $74;  RE: Coin of the Realm by Nicholas Utechin
4. What did Watson have for breakfast on March 4th? An Egg (Pages 22- 23)
5. Where did Watson meet Stamford? St. Bart's (Page 16). The Criterion Bar is also acceptable
6. Drebber's landlady had trouble avoiding regurgitating what? '..gulping in her throat to keep down her her agitation.'  (Page 43)
7. In the London venue of STUD, death arrives in three different ways, one method is found twice. Name the three different ways. (a) Poison -Drebber (Page 26) AND Mrs. Hudson's Terrier (Page 49); (b) Stabbing – Stangerson (Page 82); (c) Aortic Aneurism – Jefferson Hope (Page 77)
8. This reference is likely to a Pennsylvania venue. York College (Page 80)
So, how did you do on the quiz? Next month, our quiz will be on The Adventure of the Greek Interpreter.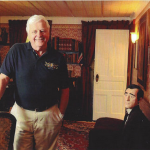 Our Inquisitor, Denny Dobry, was accepted as a Journeyman Copper Beech Smith at the April 2015 meeting of The Sons of The Copper Beeches of Philadelphia. If you are ever in the Reading, PA area, you should check out his recreation of the sitting room at 221B Baker Street. You can learn more about his sitting room by clicking here.