"Upon my quoting Thomas Carlyle, he inquired in the naivest way who he might be and what he had done."
– A Study In Scarlet (STUD)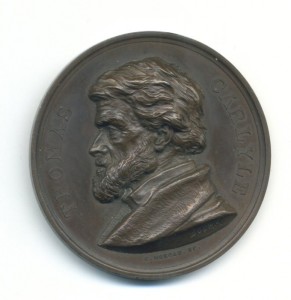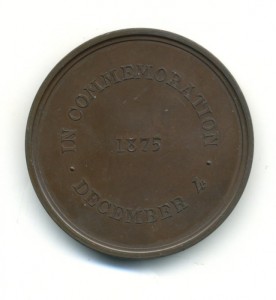 The author of this post also did not know who Thomas Carlyle was when I first read A Study in Scarlet.  Then again, I was only 10 or 11 years old at the time I was reading this adventure.
In brief, Carlyle was born in Scotland on December 4, 1795 and would later become a essayist, writer, historian, teacher and philosopher. He was considered one of the most important social commentators of his time, and his book on the French revolution is credited with inspiring Charles Dickens to pen A Tale of Two Cities. Carlyle would pass away on February 5, 1881 in London. For those interested in a more detailed biography of Carlyle, click here.
In 1875, Carlyle would celebrate his 80th birthday. This event was memorialized in the above bronze medal, that was struck for subscribers to the Carlyle Birthday Memorial Fund.