Numismatic Remembrances of Charles Darwin
"Do you remember what Darwin says about music?"
– A Study In Scarlet (STUD)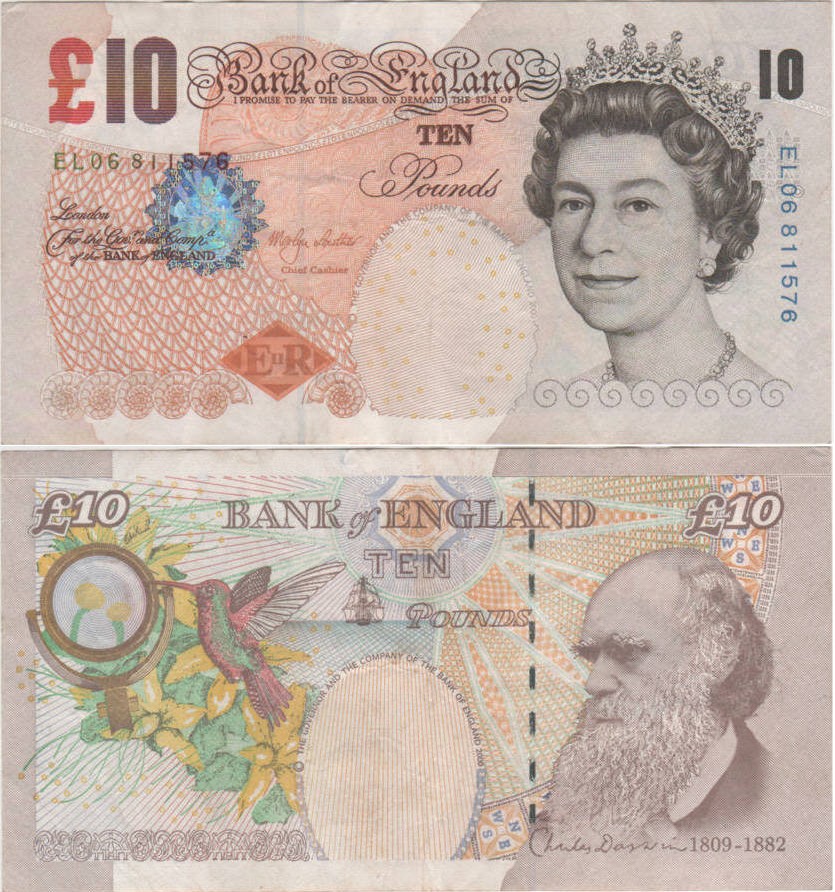 Charles Darwin, the English naturalist and geologist, was referenced twice in A Study In Scarlet. The author of the 1859 book On the Origin of Species, Darwin established that all species of life have descended over time from common ancestors. For those interested in more background on Darwin, you can read more about him by clicking here.
Darwin has been honored on many coins and medals over the years.  Probably the most prominent is that he is featured on the reverse of the £10 Bank of England bank notes that have been circulating in the UK since 2000.  It is expected that his portrait will be removed from the £10 notes in 2017 and replaced with author Jane Austen.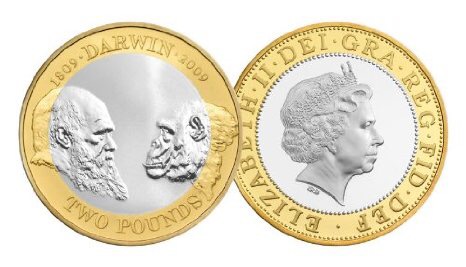 In 2009, the British Royal Mint struck a 2 Pound coin honoring Darwin in three compositions – Bi-Metallic Copper-Nickel center in Nickel-Brass ring, .925 Silver Silver center in Gilt ring, and .916 Gold Yellow Gold center in Red Gold ring.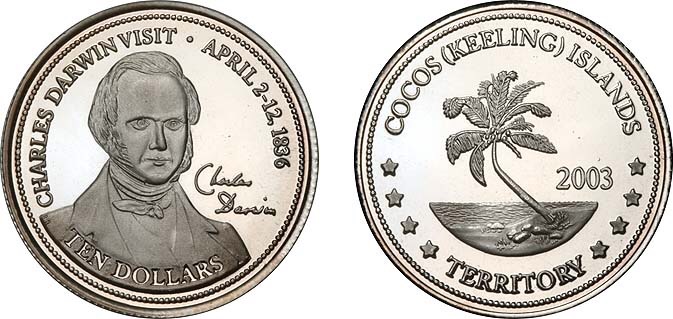 The Cocos (Keeling) Islands, 25 islands northwest of Australia, struck silver fantasy 10 dollar coins in 2003 commemorating the 1836 visit of the HMS Beagle that carried Darwin on it's second voyage of 1831 – 1836.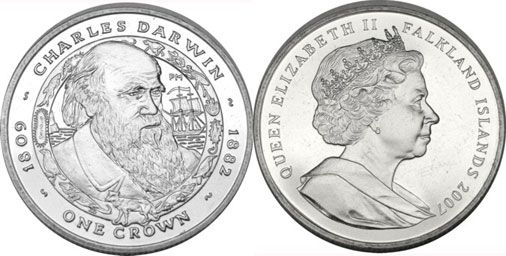 The Falkland Islands commemorated the bicentennial of Darwin's birth two years early, in 2007 rather than 2009 (more correct would have been the 125th anniversary of his death) with three coins. The Pobjoy Mint stuck an unlimited number in Cupro-nickel, 10,000 were minted in sterling silver and 5,000 were struck in .999 gold. Darwin visited the Falklands in 1833-1834.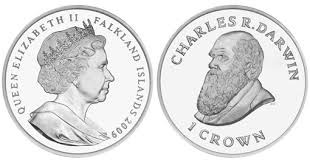 The Falklands would strike a cupro-nickel Crown in 2009 for the Bicentennial of Darwin's birth, so they did get it right eventually.
The south Pacific country of Tuvalu, which is known to strike coins for almost any occasion, struck three different 1 dollar coins in 2009 for the bicentennial of Darwin's birth.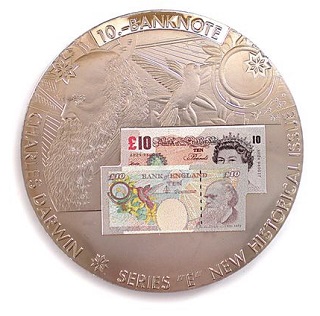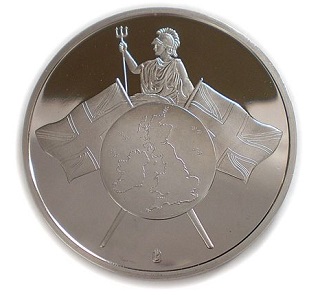 This 50mm cupro-nickel medal was issued in 2007 as part of a British Banknotes medal series.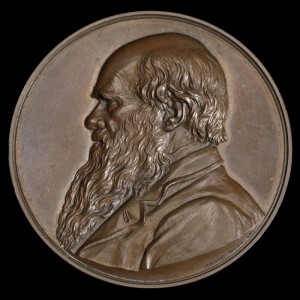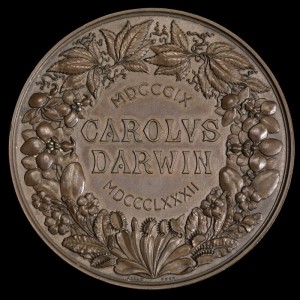 The Royal Society established the Darwin Award in 1890 and is presented every other year.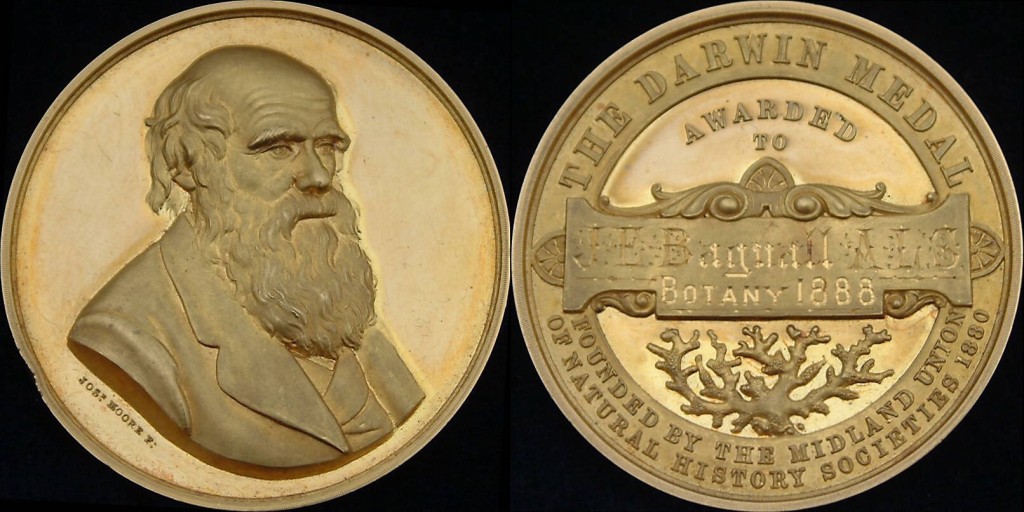 Many other scientific groups would create awards in Darwin's memory, such as this gold medal from the Midland Union of Natural History Societies.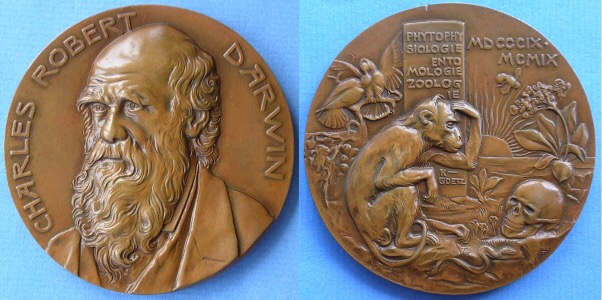 Noted German satirical medalist Karl Goetz designed this striking 36mm bronze medal for the centennial of Darwin's birth.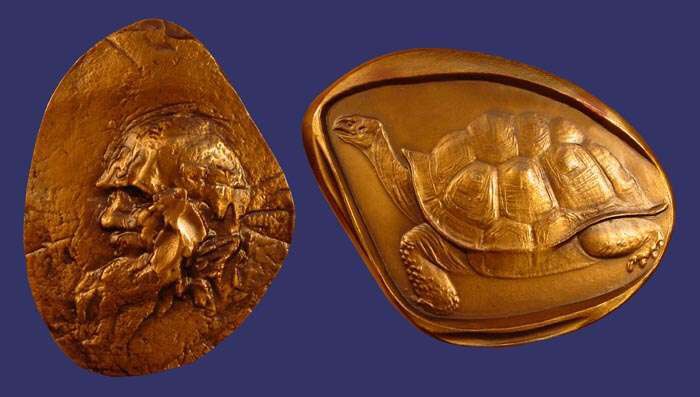 Lastly, we have this 1989 issue from the Society of Medallists. Nicola D'Alton Moss designed this medal that features Darwin and the Galapagos turtle.  This sea shell shaped medal's mintage was limited to 2,500.
This is only a brief sampling of the numismatic items commemorating Charles Darwin and there are many more examples that could have been featured in this post.