"Our meal was a merry one."
– The Sign of the Four (SIGN)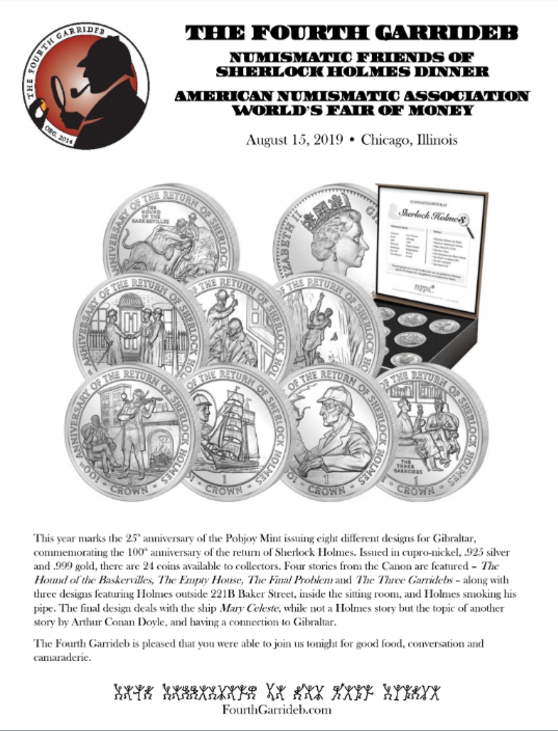 The Numismatic Friends of Sherlock Holmes Dinner was held on Thursday, August 15 was held at the Basilico Restaurante in Northridge, Illinois during the American Numismatic Association's World's Fair of Money. Garridebs attending the dinner included: Douglas Mudd, Charles Davis, Bob Fritsch, Barbara Gregory (and husband Steven Bobbitt), Greg Ruby, Glenn M. Sermersheim, Beau Meskan and David E. Simpson. Joining us from a variety of the Sherlockian scions in the Chicagoland area were Rudy Altergott, Philip Cunningham, Terry McCammon, Robert Sharfman, Brenda Rossini, and Janice Weiner.
A few Sherlockian numismatic items were passed around the table for attendees to view, including a Proof-70 example of a gold 2019 Sherlock Holmes 50 pence coin. A wide range of conversation topics occurred and general good cheer was had by all.
As has become our tradition, a souvenir was produced for this dinner and the souvenir card is pictured above. This year is the 25th anniversary of the Pobjoy Mint striking the series of 8 designs for Gibraltar in 1994, commemorating the 100th anniversary of the return of Sherlock Holmes.
Now, we have a confession to make. What if you held a dinner party and no one came? That was the case in March when the ANA had it's National Money Show in Pittsburgh. We made arrangements for a Numismatic Friends of Sherlock Dinner during that event and no one RSVP'd. We had created a souvenir card for that dinner and you may think it looks similar to the Chicago card we just issued.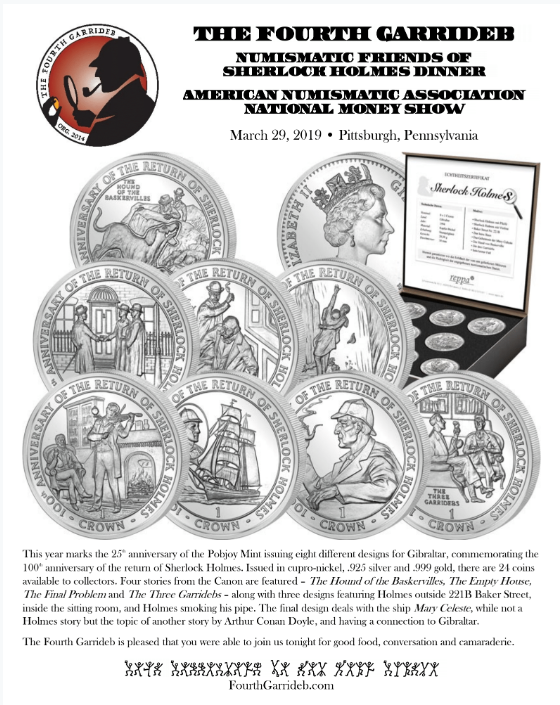 We made the decision to recycle the design from the "unused" Pittsburgh card for our Chicago dinner, as it seemed a shame to waste the design.
For both events, 25 cards were produced.  A few of the Pittsburgh cards have been distributed to a few notable numismatists who attended the Pittsburgh coin show.
The ANA will have it's World's Fair of Money in Pittsburgh next August. Hopefully, we'll have a better attendance than we did this past March.