A Newly Discovered 1994 Gibraltar Return of Sherlock Holmes Coin
"More puzzled than ever…"
– The Adventure of The Empty House (EMPT)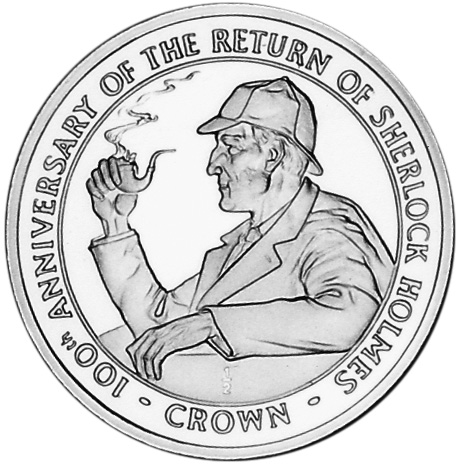 The title of this post is slightly misleading. The coin I am about to write about has been listed in the Standard Catalog of World Coins for several years, having been assigned the catalog number of KM-574. But this particular coin was not mentioned in the Pobjoy Mint's press release announcing the Return of Sherlock Holmes series that we posted HERE or their 1994 catalog. The coin pictured above was not mentioned in the ads that the Pobjoy Mint placed in the numismatic press that we discussed in another prior post. We've reprinted news articles and columns regarding the Return of Sherlock Holmes series from 1994 and there is no mention of this coin.
It was to the point that I had started writing a post that KM-574 did not exist and was a cataloging error. In all honesty, I did not prioritize that post as a member of our group is the former editor of the SCWC.  Then I found the above picture – a 1994 silver 1/2 Crown from Gibraltar featuring the profile of Sherlock Holmes with inverness cape and deerstalker cap and a smoking pipe.
All of the prior material pointed to 24 coins as part of the Return of Sherlock Holmes series. Eight designs in copper-nickel, silver and gold. The copper-nickel and silver coins are 1 Crowns, while the gold coins are 1/5 Crowns.
I have been loathe to write up a numismatic item on this site if I have not seen the item in person or in a reputable news source / catalog. There was all this supporting evidence that seemed to indicate that this 1/2 Crown didn't exist. Besides, why would they produce a silver 1/2 Crown of only 1 of the 8 designs.
Yet the picture above seems to indicate otherwise. If this particular coin is like other 1/2 Crowns of Gibraltar, the coin is 32mm round, 2mm thick and weighs 15.55g.
Now, there are a few questions to be asked:
How many were made?
Are there silver 1/2 Crowns of the other 7 designs?
Are there copper-nickel 1/2 Crowns of this and the the other 7 designs.
If not, why was this design done as a silver 1/2 Crown?
Why didn't the Pobjoy Mint mention this denomination in their press releases, catalogs and advertisements?
I'm not sure Holmes would be able to come with reasoning behind this coin.