"… joy of the true artist …"
– The Valley of Fear (VALL)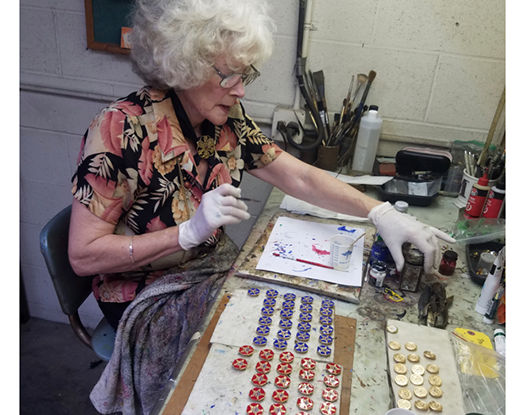 Maggie Schpak creating badges in her studio in Glendale, California. Courtesy of Maggie Schpak
We are pleased to share this WGBH feature on artist (and BSI member) Maggie Schpak. We have done posts on several of her Sherlockian medals over the years, such as the BSI Trust Benefactor Medal, the BSI Eddy Award medal and will in the near future start discussing the quiz medals she produces annually for the Curious Collectors of Baker Street (CCOBS). You can view the original story HERE.
Meet The Artist Behind 50 Years' Worth Of Hollywood Costume Design — Including Star Trek
Toiling with molten metals and polishing fake gemstones for close to 50 years has made costume and jewelry designer Maggie Schpak a part of the fabric of American culture.
Schpak's work has been featured in some of the biggest blockbuster films from the past few decades — "Star Trek," "Rocky," "Rambo," "Raiders of the Lost Ark," and most recently, "Once Upon a Time in Hollywood." She now lives a low-key lifestyle in a Los Angeles studio far from the public's gaze. Her specialty is designing and crafting police badges for fictional towns in TV shows and films, what she calls her "bread and butter" because it's her biggest source of work.
But if a Hollywood director needs anything from a princess tiara to a Vulcan head bracelet, they know they can turn to Schpak for help.
She began her career in costume 48 years ago, but Schpak has been in Hollywood her entire life. Her father, Millard Mitchell, was a mainstay of Old Hollywood and shared the screen with the likes of Gregory Peck, Jean Arthur and Jimmy Stewart. He even picked up a Golden Globe award for his role in the 1952 film "My Six Convicts."
Following in her father's footsteps, Schpak initially set out to be an actor. While in school, however, she preferred to hang out with the techies. After graduating, she spent a decade at Western Costume, a costume warehouse in Hollywood that provides costumes and costuming materials to the film and TV industry, but Schpak eventually realized her passion was in metalwork and jewelry. She and her partner opened Studio Art Metal Shop in Glendale in 1962, and she's owned and operated it ever since.
At first, she said, the learning curve was steep.
"We didn't know anything. We really didn't know how to make stuff. We really didn't," said Schpak, who came to Somerville for an event celebrating the decorations she's created for "Star Trek" shows and films.
So, while lineage led her to the stage, it was love that kept her in the workshop.
Schpak gave a talk Sept. 22 at The Center for Arts at the Armory in Somerville to a gathering of Artisan Asylum supporters and Trekkies, the fans who rabidly follow the "Star Trek" franchise. It was the first time Schpak spoke publicly about her work for "Star Trek," and she was worried that her lack of trivia-type knowledge of the greater "Star Trek" universe may be a disappointment for some fans.
"They would say, 'What do those mean? What do those mean?'" Schpak said about a crowd that once gathered around to watch her recreate the Vulcan Kolinahr necklace worn by Leonard Nimoy in "Star Trek: The Motion Picture." "And I don't want to say, 'Well, they're just shapes.'"
The Somerville audience got a chance to hear Schpak's anecdotes from working on the set. For example, she said she's asked all the time about working with Ricardo Montalbán, the star of the iconic film "Star Trek II: The Wrath of Khan."
"He wanted to show those pecs," she said. "If you're that age and you've got those pecs, you've gotta flaunt it. Lots of people thought those were fake pecs. Nope."
"Star Trek" holds a special place in Schpak's heart. While she may not be able to riff in Klingon with "Star Trek" fans, like many of them, she looks back on her time working on the show fondly. The chemistry between the original cast members was "magical," she said, and she expressed gratitude for the chance to have worked on the show.
"I met an awful lot of great people," Schpak said, "And it's been my life for 48 years. So, you can't sneeze on that."