The 2014 BSI Trust Benefactor Medal
"… I should have had a medal the size of a soup plate."
– The Adventure of The Three Garridebs (3GAR)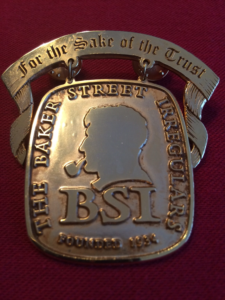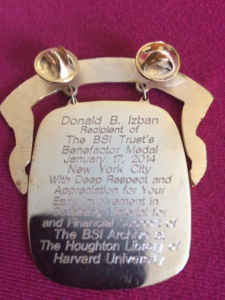 We published a HolmeWork Assignment regarding the BSI Trust Benefactor's Medal in January 2016. This medal has only been awarded twice – first, in 2012, to Glen Miranker, and then again in 2014 to Donald B. Izban.
In the Spring 2014 edition of For the Sake of the Trust, there was this news item:
Izban Receives Benefactor Medal
In appreciation for his long-standing generosity and activism on behalf of the BSI Trust, Andy Solberg presented Don Izban with the BSI Trust's Benefactor Medal at the BSI Dinner on January 17.
This January, your editor had the pleasure of meeting Don Izban and his lovely wife, Patricia. Don, the "dean" of Chicago-area Sherlockians was holding court in the lobby of the Yale Club prior to the BSI Annual Dinner. I happened to mention that I was looking for a photograph of his BSI Trust Benefactor Medal. One thing I learned was that Don does not deal with anything that might be called modern technology, so we thank Patricia for the photographs of the medal.
OBVERSE: THE BAKER STREET IRREGULARS / (left-facing silhouette bust of Holmes with pipe) / BSI / FOUNDED 1934
REVERSE: Donald B. Izban / Recipient of / The BSI Trust's / Benefactor Medal / January 17, 2014 / New York City / With Deep Respect and / Appreciation for Your /Early Involvement in / Obtaining Material for / and Financial Support of / The BSI Archive at / The Houghton Library of / Harvard University.

The medal is dual suspended from a scroll-like clasp that reads For the Sake of the Trust.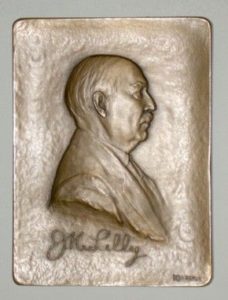 Earlier this summer, the BSI Trust announced that it would be relocating its archive from Harvard to the Lilly Library on the campus of Indiana University. For our coin collecting readers, if the name Lilly sounds familiar, it should be. The numismatic collection of Josiah K. Lilly of 6,125 gold coins from ancient to modern times was donated to the Smithsonian's Museum of History and Technology in 1968 and was, at the time, "the most important single acquisition ever received by the Numismatic Division."
For those interested in making a donation or learning more about the BSI Trust, click HERE.
Our thanks again to Patricia and Donald Izban for sharing this with us!