"… if I could get some stuff that would suit my editor …"
– The Valley Of Fear (FEAR)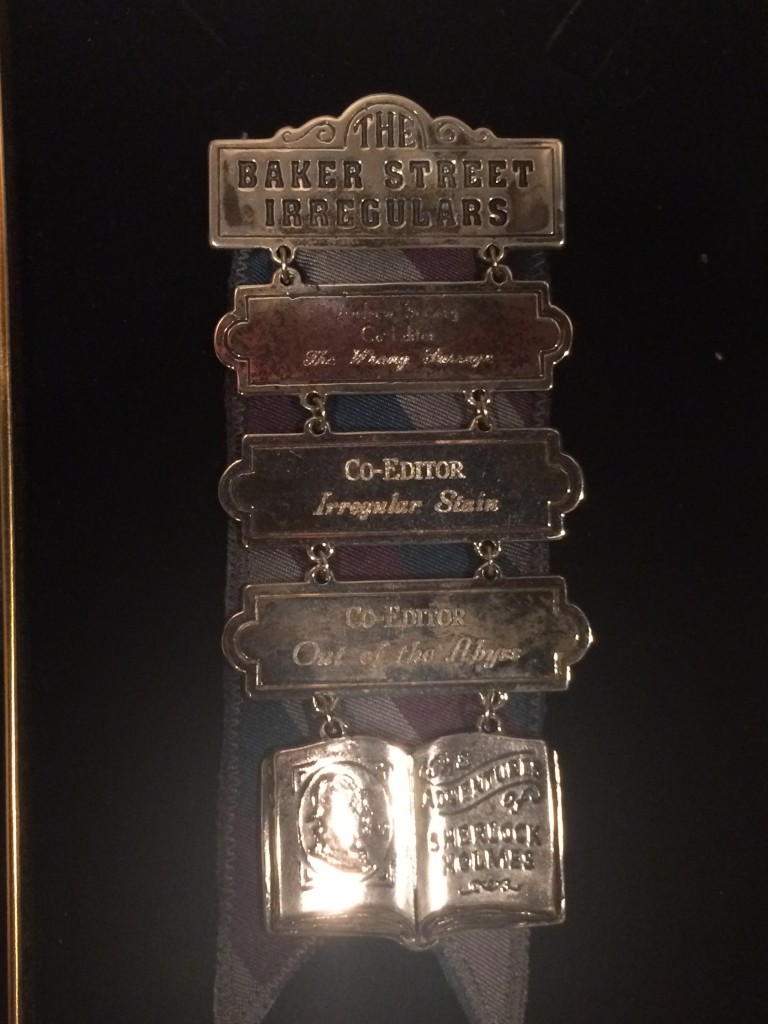 In 2007, Michael Whelan, the "Wiggins" or leader of the Baker Street Irregulars (BSI), initiated the Eddy Award to honor those who edited BSI publications.
The award medal was designed by a BSI member, Maggie Schpak (whose BSI investiture is The Soup Plate Medal). The top bar reads THE BAKER STREET IRREGULARS. A ribbon with the color combination of purple, gray and mouse hangs from the top bar.  These colors were suggested by BSI Founder, Christopher Morley, at the 1950 BSI dinner, "as symbolic of the stages of deterioration of the Master's dressing gown," and have been the official colors of the BSI since.
Another bar hangs from the top bar, this one engraved with the recipient's name, role and title of the work. Additional bars can be awarded to a previous recipient and are hung below the original bar. The recipient's name is not engraved on subsequent awards.
Below the bars hangs a medal in the shape of an open book. The left page has a silhouette of Sherlock Holmes, facing right.  The right page has the words THE ADVENTURES OF SHERLOCK HOLMES on five lines.
The medal pictured above belongs to Andy Solberg, who has the BSI investiture of Professor Coram, and is also a member of my home scion of Watson's Tin Box. Andy was kind to bring the medal to a recent meeting for me to take pictures. At the recent 2016 BSI weekend, he added a fourth bar to the badge for co-editing Nerve and Knowledge, which (and several other titles Andy co-edited) can be purchased HERE.