Stock Certificates of the BSI
"… he has lost heavily in dabbling with stocks …"
– The Adventure of The Naval Treaty (NAVA)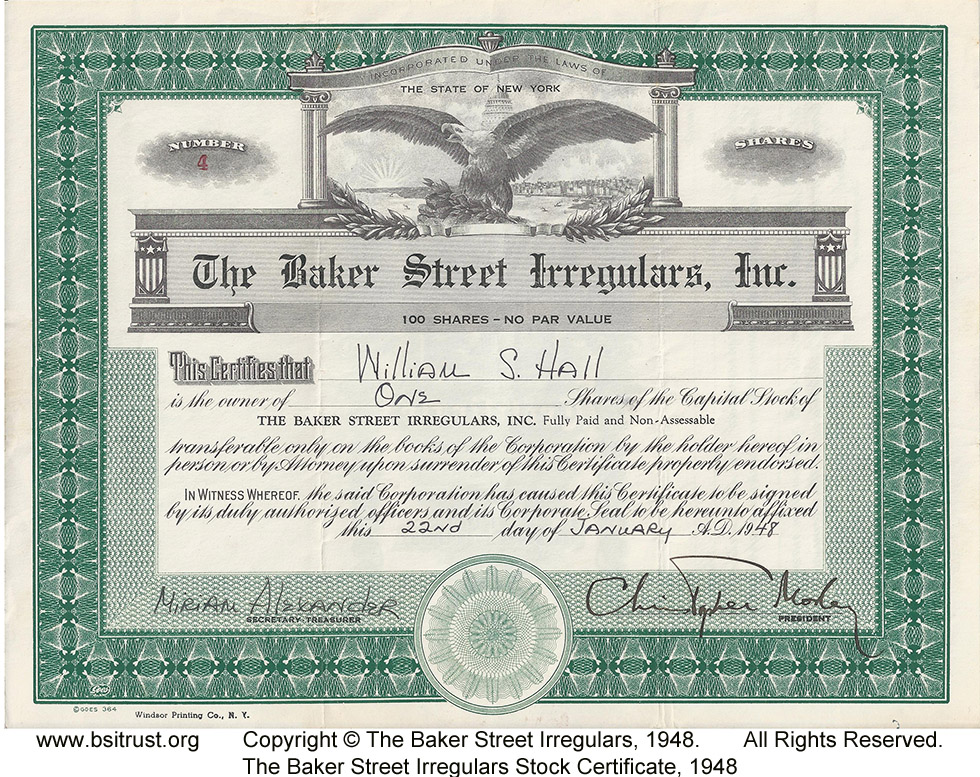 In late 2014, I received the Fall issue of the BSI Trust's newsletter, For the Sake of the Trust, and in reading that issue discovered that they had just received a donation of a BSI stock certificate owned by the late William S. Hall. The Chair of the BSI Trust, Andy Solberg, and I both belong to Watson's Tin Box, a local scion. At the next WTB meeting, I asked Andy about the stock certificate and he was kind to share the above photograph.
There is not a lot of information about these stock certificates, but I was able to come across this nugget of information on Jon Lellenberg's BSI Archival History website – a comment about the BSI Stock Certificates that was posted January 17, 2011 in his Ask Thucydides column:
Edgar W. Smith started talking to Christopher Morley about incorporating the BSI sometime the summer of 1947, both to create a lucrative publishing program (they thought), and to manage takeover of the BSJ if Ben Abramson's publishing of it collapsed (as it did in 1949).  That November they acted, with Vincent Starrett brought in as the third required incorporator.  First announcement of it came at the January 1948 "committee-in-camera" dinner ("monosyllabically," reported Irregular Bob Harris to Russell McLauchlin back in Detroit), and then in Smith's minutes of that dinner.  Smith discussed it at more length in the April 1948 BSJ.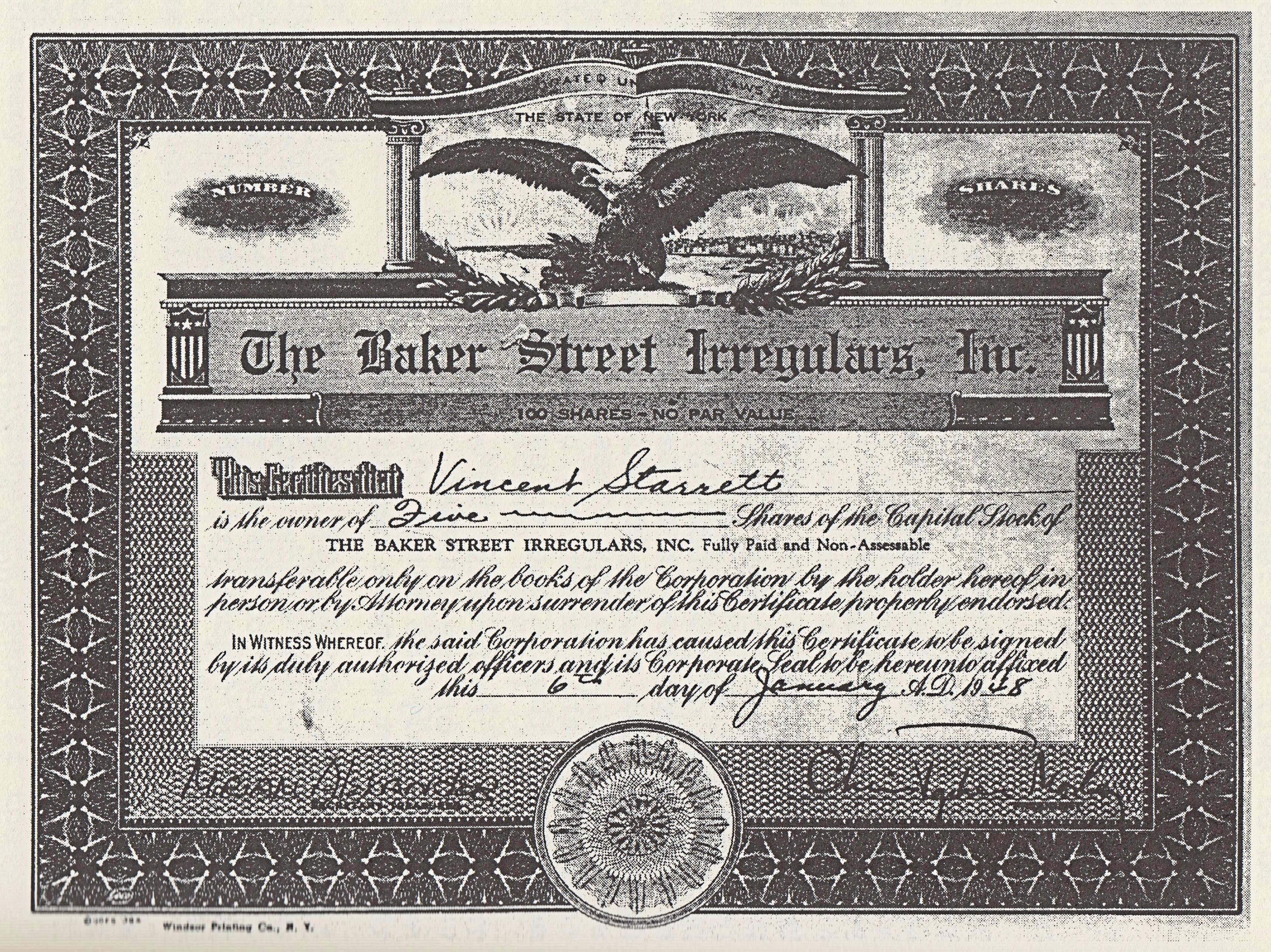 The first three stock certificates were issued in January 1948 to Morley, Smith and Starrett.  Starrett's is pictured on p. 124 of Irregular Crises of the Late 'Forties.  100 shares had been authorized; Morley received 23, Starrett 5, but I don't know how many for Smith.  Morley and Smith had ideas about other likely candidates, but a lot of the men they had in mind hung onto their money instead, especially as Smith wanted $250 a share.  By April 1948, there were six stockholders, the next three being Frank Morley, Richard W. Clarke, founder of The Five Orange Pips, and Carl Anderson of The Sons of the Copper Beeches.  That September, California mystery collector E. T. "Ned" Guymon Jr. became a stockholder.  (See my Disjecta Membra volume for the Smith-Guymon correspondence.)
Miriam "Dee" Alexander, Smith's secretary at GM Overseas Operations at the time, and serving as Secretary-Treasurer of the BSI, Inc., had already received a share as a gift in recognition of her unpaid service.  Others were not pounding at the BSI, Inc.'s door, especially when its first publishing venture, the BSI edition of The Adventure of the Blue Carbuncle, was a commercial flop.  (The unreality of Smith's and Morley's thinking is indicated by Morley's notion at the beginning of the project that the Literary Guild alone would take 400,000 copies of the book.)
By May 1949, stockholders numbered eleven, including now William S. Hall, Ben Abramson (I suspect without paying for his share or shares), and Julian Wolff.  By January 1950, there were two additional stockholders, for a total of thirteen holding a total of 65 shares, but I am confident that both received their shares for free too.  One was Christopher Morley's dogsbody Louis Greenfield, acting as unpaid Business Agent for the BSI Inc., who probably never had $250 at one time in his life.  (See ch. 6 of the Late 'Forties volume).  The second was Jacques R. Smith, Edgar Smith's stepson who'd taken over the printing of the OS BSJ, and found it very hard to get paid by the failing Ben Abramson.
I can't say now whether Smith succeeded in unloading any more shares to any additional stockholders in the 1950s, but if he did, it would have been as a purely charitable act on the part of the new stockholders, because it was clear by then that the BSI Inc. was a financial black-hole.
Names of stockholders are taken from the periodic financial reports of the BSI Inc. in my 'Late Forties and Disjecta Membra volumes.  Additional data about the 1950s would be very welcome.  The BSI Inc. was still active when Edgar W. Smith died in September 1960, and apparently posed an administrative burden without financial reward for his sons.
Nearly 4 years passed between Lellenberg's post and the donation of the Hall BSI stock certificate to the BSI Trust.  We can see that Hall's stock certificate was dated January 22, 1948 and is number 4, a full year before Lellenberg believed he came on aboard as a shareholder. This also probably places Hall before the trifecta of Morley, Clarke and Anderson. "Official" BSI records are very minimal during this period of the organization's history.
Stock certificates, in my opinion, offer a fascinating insight to the corporations they represent. I would be very much interested in learning more about the BSI shares and any information would be very welcomed.
Thanks to Andy Solberg and the BSI Trust for allowing us to share the photograph of William S. Hall's BSI stock certificate. Thanks also to Jon Lellenberg for allowing us to share the photograph of Vincent Starrett's BSI stock certificate and to quote from his website.