TFG To Hold Virtual Numismatic Friends of Sherlock Holmes on August 5
"His orders were to stay in the house."
– The Five Orange Pips (FIVE)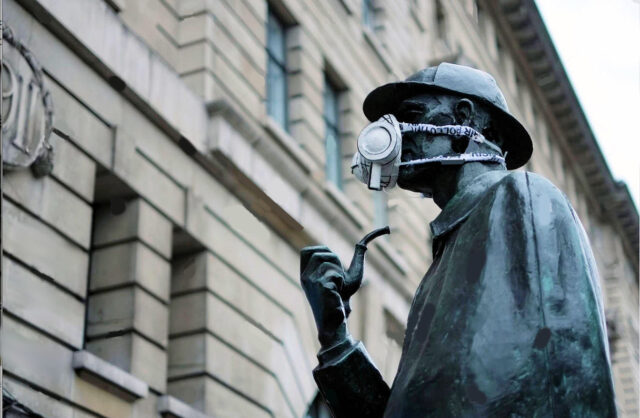 A few weeks ago, we announced that the ANA's World's Fair of Money was being postponed, and with it, our annual Numismatic Friends of Sherlock Holmes Dinner.
Your editor has not been within 6 feet of any Sherlockians since we held our dinner in Atlanta in February for the ANA's National Money Show, and is going stir-crazy at the TFG World Headquarters.
Our membership is of two separate fandoms, those that are coin collectors and numismatists and the others are Sherlockians, with not many of our members mixing within the two fandoms. So, we will be attempting to hold a virtual Numismatic Friends of Sherlock Holmes event on Wednesday, August 5 at 7:30 p.m.
We will have a short presentation on "The Numismatic Sherlock Holmes," and will then be followed by a social hour allowing you to chat with the other attendees.SEE UPDATE AT BOTTOM OF POST!!
Some caveats:
This is a poor substitute for our normal dinners, lacking good food, drink and camraderie.
This is a better alternative than doing nothing at all.
While most of our membership is based in the United States, we are spread out over 4 continents. Hopefully, this will be our only opportunity to connect so far and wide.
You, and our other members, are a diverse bunch with varied interests. Usually, at our dinners, the conversations switch from Holmes and coins to those other interests.
Registration is required for this free virtual event and you can register by clicking HERE. We hope you will join us!
UPDATE 7/20/2020: Your beloved (?!) editor has come down with a case of Bell's Palsy since this was posted and now the left side of his face is temporarily paralyzed. This virtual session will still take place but without Ruby's presentation, so just a social hour will happen.