TFG Hosts Successful Dinner in Atlanta
"I was feeling drowsy and stupid, partly from my dinner…"
– The Adventure of the Naval Treaty (NAVA)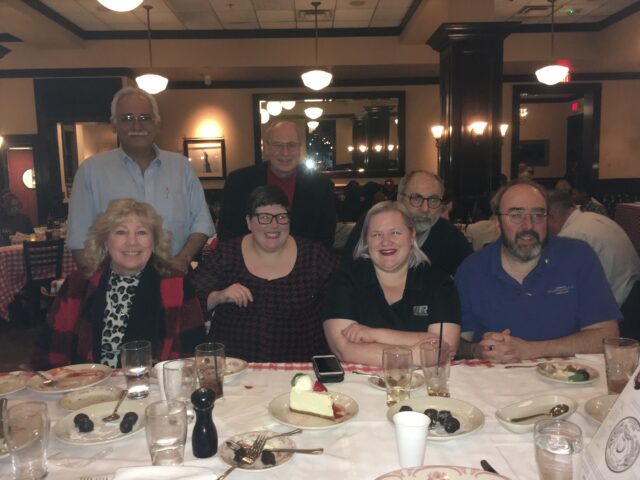 Attendees at the Numismatic Friends of Sherlock Holmes Dinner in Atlanta Front Row (l to r) Kathy Rosina, Heather Holloway, Crystal Noll, and Greg Ruby Back Row: Jeffrey Rosina, William Bierly and Steve Zitowski,
The American Numismatic Association (ANA) held their annual spring National Money Show this past weekend at the Cobb Galleria in suburban Atlanta, Georgia and as usual, The Four Garrideb was there. On Thursday, February 27, 2020, TFG held its Numismatic Friends of Sherlock Holmes Dinner at the nearby Maggiano's and invited local Sherlockians to join us.
Seven coin collectors and/or Sherlockians joined us for a family-style meal. We were pleased to be joined by a few members of Wisteria Lodge, an Atlanta-based scion and some of the organizers of the fan-con 221 B Con that will take place next month.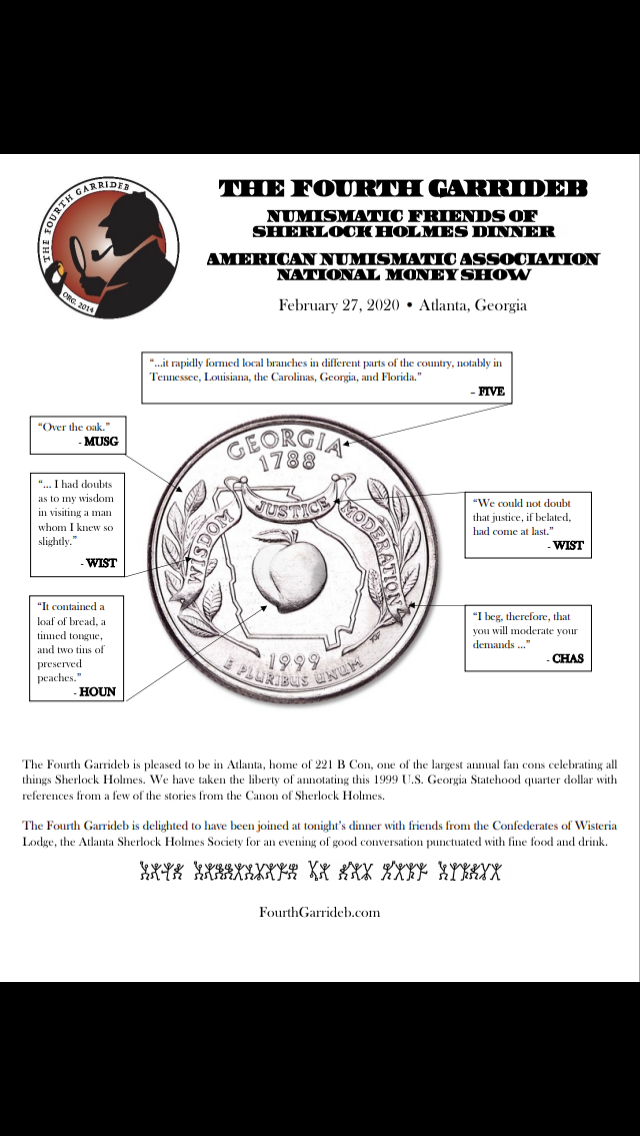 As has become tradition for our dinners, we issued a limited edition souvenir card to the attendee. This card featured a 1999 Georgia statehood quarter and was annotated with references from the Canon to the design elements on the reverse of the quarter.
It was a evening of good food and conversation that was enjoyed by all attendees. We are planning to have our next Numismatic Friends of Sherlock Holmes dinner in Pittsburgh, Pennsylvania during the ANA's World's Fair of Money, which will be held August 4-8, 2020. Hope you can join us!