The Sherlock's Americana Wooden Nickel
"… a considerable number of curiosities …"
– The Sign of the Four (SIGN)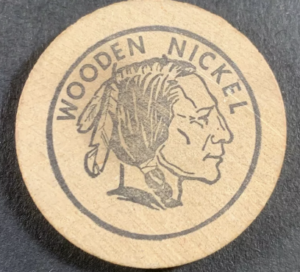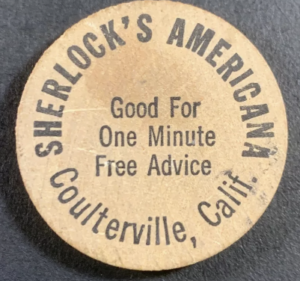 OBVERSE: WOODEN NICKEL / (Indian head bust, facing right)
REVERSE: SHERLOCK'S AMERICANA / Good For / One Minute / Free Advice / Coulterville, Calif.
38mm, Round, Wood
When your editor first saw this wooden nickel, thoughts immediately began about our June 2016 HolmeWork assignment of a brass token from a Somi, California business called Sherlock's that sold antique glass. It seemed to make sense – California, americana, antique glass. They might be related. Things appeared hopeful, until we looked at the map. The towns of Coulterville and Somis are about 5-6 hours apart.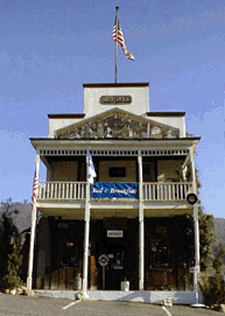 Sherlock's Americana, as well as the Sherlock Holmes Bed & Breakfast Inn was located at 5006 Main Street in Coulterville, California. It appear that both businesses are still functioning, as this is being written, but with different names. The following information is being "borrowed" by us from the website of a local Yosemite destination marketing organization, that was last updated in 2016.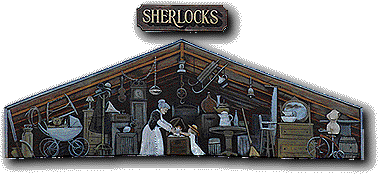 The mural above our storefront reflects but a tiny fraction of what you will find inside. Owner Mary Sherlock has spent the better part of a lifetime collecting an incredible assortment of items that have visitors "oohing" and "aahing" from the moment they walk through the front door.
Those who like glassware will love it here: hand painted porcelain include Haviland, Limoges and R.S. Prussia. Display cases are filled with authentic Indian jewelry and antique glass beads. Mary takes pride in a large inventory of old kerosene lamps (the old timers call them "sparking lamps") including the hard to find miniatures.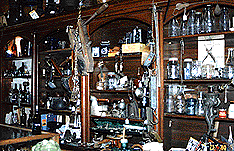 Collectors of "primitives" will have a field day at Sherlock's Americana. Here you'll find old tools, jugs, lanterns, bottles, insulators and mining supplies (gold panning is still big in local streams here). And in a display case that in an earlier era dispensed penny candy, you'll discover a large cutlery selection including Buck, Case and Puma.
So, we learn that the owner's last name is Sherlock. But, as we flip to the next webpage, it's going to get interesting…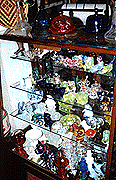 Glass, glass and more glass. Yes, you'll see cut lead crystal, antique perfume bottles and salt cellars but you will also find one of the largest selections of cut and depression glass anywhere. Here is but a small part of Mary Sherlock's inventory:
Now, that makes this a little more interesting. Here we have someone with the last name of Sherlock, in California, and dealing in antique glass. Could this be related to our brass token from Sherlock's of Sima?
As you have learned, this is a historic building–built in the last century. The upstairs was originally the residence of the Warne family. It now shares its authentic Mother Lode atmosphere with visitors from all over the world: many on their way to or returning from Yosemite National Park, and others touring our historic Gold Country.
The building may be historic but, rest assured, it has been fully restored. Guests here have their own private entrance to the Sherlock Holmes. That means you can keep your own hours and don't have to worry about waking anyone up to get inside. Our tour begins here: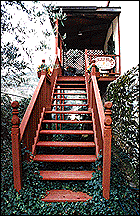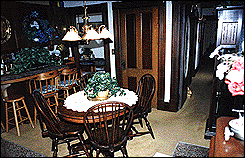 You walk in the front door and you'll see the spacious rooms including dining quarters. You're sure to be here at least twice a day. In the morning, when Mary Sherlock serves up her famous Welsh Gold Miners' Pasties. Imagine, if you will, a breakfast omelette in a tender pie crust and smothered in rich cheddar cheese. Serve that with some homemade breakfast breads and gigantic warm-from-the-oven muffins and fresh-brewed coffee and orange juice and you'll want to plan your next trip to Sherlock Holmes…just for the breakfast! Meanwhile, 5 in the afternoon is a pretty good time to be close to "Holmes" too. That's when Mary hosts "happy hour" featuring famous local wines and gourmet cheeses. Somehow, we don't think folks had it this good in the old days!
Sherlock Holmes is in the heart of historic Coulterville. You're within easy walking distance to a great museum, an old cemetery, restaurants and shopping, an authentic wild west saloon, an equally authentic Chinatown and, lest we forget, some great gold panning. (You can get your gold pans downstairs.) It's enough to keep a family busy for hours. It's also proof positive that little Coulterville is the old west's best kept secret!
We almost forgot to mention the Sherlock Holme's game room–a perfect place to play cards or any number of board games. And you do know what board game is the most popular here, don't you? It's Clue.
After dinner, guests enjoy Mary's homemade dessert buffet.
Meanwhile, other than her famous Welsh Gold Miners Pasties, we invite you to check out what Mary Sherlock is most proud of at the B&B…the wonderful rooms.
We have four rooms available here at Sherlock Holmes including our Dr. Watson's Room. This room features antique furnishings and private bath. The room rate is $115.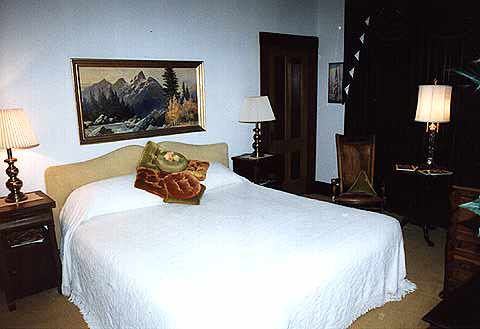 The Sir Arthur's Library features twin oak sleigh beds and lots of reading material! The room rate is $85.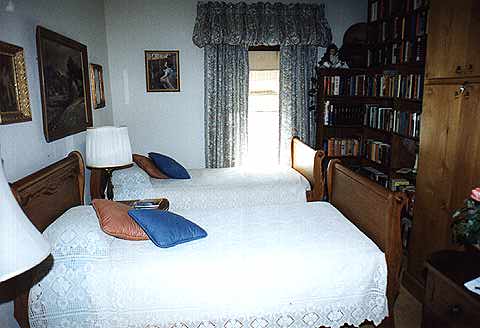 Lucy's Victorian Room features a queen sized bed with Victorian furniture. The room rate is $85.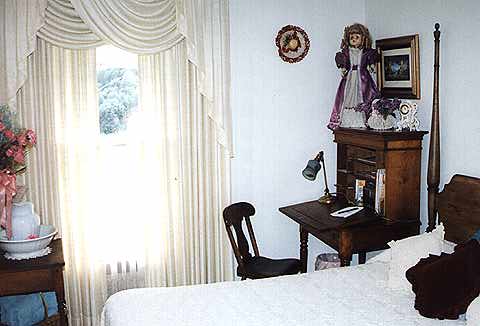 Sherlock Homes Suite features a carved oak queen bed with bath of yesteryear and a private viewing veranda overlooking historic Coulterville The room rate is $115.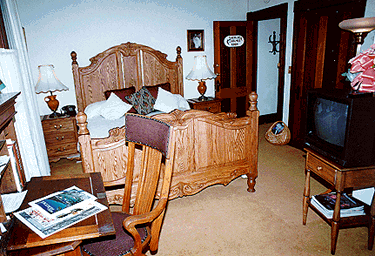 All Rates include a full, hot breakfast.
Complimentary wine and cheese are served at 5:00 pm
Dessert Buffet served after dinner
Check In Time: 4:30 – 6:30 pm
Now, we did try to locate this business on Google Maps. Based on the address above, we did a "street-view" look and can match the building up with the building pictured above. There is still an antiques store, but the Ben & Breakfast has a sign reading as "Rose Cottage" and then notice that the image was captured  in May 2015. Looking closely, we can make out the Sherlock's mural at the top of the front wall of the building. There is an article, regarding visiting Coulterville as a tourist, that mentions Sherlock's Americana in the January 21, 1990 edition of the Los Angeles Times. So we'll presume the business was operational sometime in the 1980s until before May 2015.
Doing a search for bed & breakfasts currently in Coulterville, we found a "Yosemite Coulterville Inn" doing business at 5004 Main Street, using a picture of the same building and the website stating that it was the former Rose Cottage.
So, the Sherlock's Americana wooden nickel has no relation to Sherlock Holmes, with the exception that it shared a building with the Sherlock Holmes Bed & Breakfast Inn located on the floor above.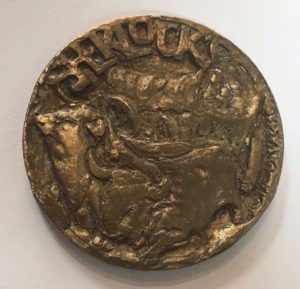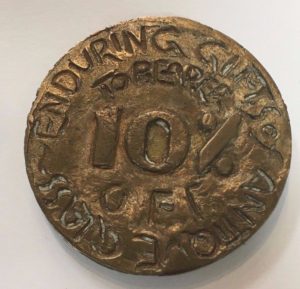 We also are going to make an educated presumption that Mary Sherlock's family had something to do with the brass token from our HolmesWork assignment. Allowing for the 40+ years between the two business ventures and the distance, we are struck by the last names of Sherlock and both had ties to gift shops that had antique glassware.
Do you agree or disagree with our theory?