June HolmeWork Assignment: Sherlock's of Somis California Token
"But these glasses do puzzle me, I confess."
– The Adventure of The Abbey Grange (ABBE)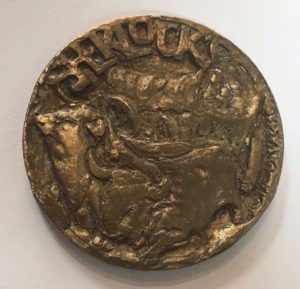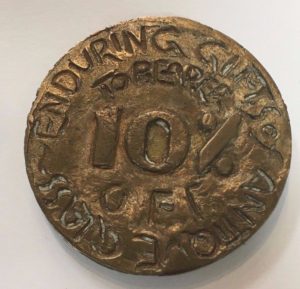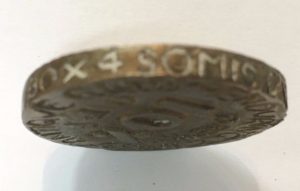 Our HolmeWork assignment for this month may not even be related to Sherlock Holmes.
We recently came across a somewhat crude looking 1.5 inch brass token weighing 31.54 grams for Sherlock's of Somis, California. The obverse features a pair of oxen pulling a wagon.  Above is SHERLOCK'S and on the right side is © 71 D. WEST. The reverse carries messages of 10% OFF TO BEARER and ENDURING GIFTS OF ANTIQUE GLASS. The edge carries the address of BOX 4, SOMIS, CAL 93060 and the telephone number of  805-482-2220.
So, are any of our Californian Sherlockians or numismatists familiar with this business or the token? With the copyright symbol, we are presuming that this token is circa 1971. Sherlock's seems to be a curious name for non-Holmes related business, unless, perhaps it is the last name of the proprietors.
Anyone have any hints or suggestions?
UPDATE 6/18/2020: We might have answer to this one. Check out The Sherlock's Americana Wooden Nickel post that we have added.