Sherlock Holmes and Frank Sinatra
"… not only a very capable performer …"
– The Adventure of The Red-Headed League (REDH)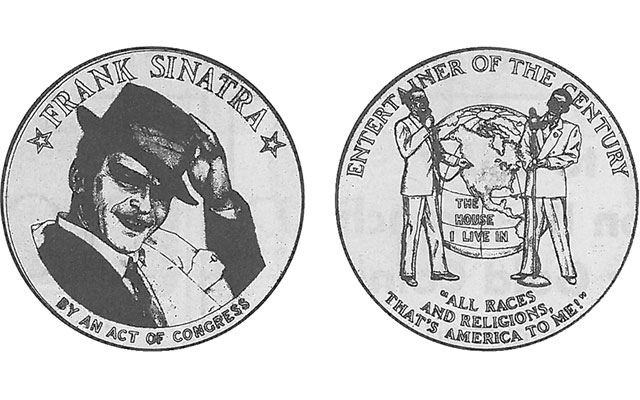 The 105th Congress (1997-98) of the United States, on May 14, 1998, authorized a Congressional Gold Medal be awarded to Francis Albert "Frank" Sinatra for "outstanding and enduring contributions through his entertainment career and humanitarian activities." Unfortunately, Sinatra passed away on May 14, 1998, before the medal could be presented to him
Usually, the U.S. Mint produces bronze duplicates of Congressional Gold Medals for sale to collectors. However, the Sinatra medal is one of the rare exceptions.  Paul Gilke, Senior Editor of Coin World, tells the story in his May 23, 2015 article on this medal:
The medal's obverse, designed and sculptured by then U.S. Mint Sculptor-Engraver John Mercanti, depicts Sinatra in his 40s in a familiar pose, wearing a porkpie hat and with his coat slung over his shoulder.
The reverse, by then U.S. Mint Sculptor-Engraver Thomas D. Rogers Sr., shows two full-length renditions of the entertainer, one in his 20s, the other in his 60s, along with several lines of lyrics from his trademark songs.
The U.S. Mint released images of only sketches of the proposed designs before modifications. Reportedly, no images were taken of the actual gold medal before its presentation to the Sinatra family.
The Mint delivered the medal to President Clinton on June 4, 1998. The medal was presented to Sinatra's daughter, Nancy, the following day at the Washington, D.C., offices of Rep. Joseph Serrano, D-N.Y.
Originally, reports suggested that production of bronze duplicates of the Sinatra medal was being blocked by the Sinatra family because of copyright issues with the designs. Later, the Mint disclosed that, while some legal and other undisclosed concerns had to be resolved, the Sinatra family was not blocking bronze medal production.
The Sinatra designs were modeled, dies were cut, and bronze trial had been made in preparation for full production, but that never materialized. Whether to produce the bronze duplicates was a government decision, according to Mint officials. Neither Mint nor Treasury Department officials ever disclosed why bronze duplicates of the Sinatra gold medal were never struck.
During the summer months of 2015, the New York Public Library for the Performing Arts at Lincoln Center honored Sinatra's 100th birthday with an exhibition called Sinatra: An American Icon. One of the items on display was the Congressional Gold Medal awarded to Sinatra.  Blogger Dan Cirucci posted about the exhibition and snapped a picture of the medal, which he graciously is allowing us to share here.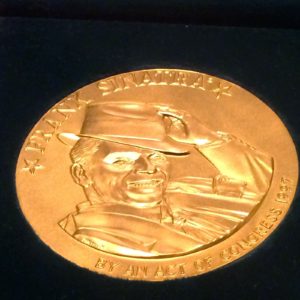 Comparing the photograph of the actual medal to the earlier renderings, there are two differences – the 1997 date was added at the bottom and the registered trademark seal of ® is behind Sinatra's name.
So, what is the Sherlockian connection to Frank Sinatra?
CBS started broadcasting The Frank Sinatra Show (also known as Bulova Watch Time) in the fall of 1950.  In the 25th episode, that aired on March 24, 1951, Basil Rathbone made an appearance as Sherlock Holmes, in full Inverness cape and deerstalker cap, to search for Sinatra's lucky bowtie that was stolen.  Rathbone was quite the ham as he performed as Holmes. We have a clip of the scene below.
Thanks to Dan Cirucci for sharing his photograph of the Sinatra Congressional Gold Medal.