The 2009 Castor Oyl Poker Chip
"… two drops of castor oil …"
– The Sign of The Four (SIGN)
Castor Oyl statue outside Memorial Hospital – Chester, IL ~ Photo by Baskerville Productions
Chester, Illinois is the hometown of Elzie C. Segar, the creator of the Popeye the Sailor Man cartoons. In 1977, the city erected a statue in his honor. Since 2006, Baskerville Productions began work on a "Popeye & Friends" character trail of granite statues. To date, 15 additional statues have been erected in Chester, including a "Sherloock & Segar" statue last December. You can read more about the Popeye & Friends character trail at their WEBSITE.
In 2009, they erected the sixth statue in their series, hornoring Castor Oyl the Detective, sporting a deerstalker cap, inverness cape and holding a magnifying class. A few souvenir items were produced, including a poker chip ($3 plus shipping and handling) and are available on their WEBSITE.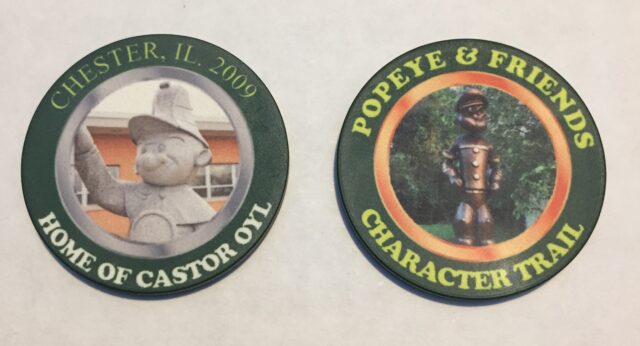 OBVERSE: CHESTER, IL 2009 / (picture of Castor Oyl statue) / HOME OF CASTOR OYL
REVERSE: POPEYE & FRIENDS / (picture of Popeye statue) / CHARACTER TRAIL
38mm, Ceramic, Round
If we learn of a poker chip for the Sherlock and Segar statue, we will share that information in another post. (Update 6/26/2020: See our post about the 2019 chip) In closing, enjoy this clip of Private Eye Popeye.
Thanks to Michael W. McClure, BSI, for providing us with much of this information.