Porcelain Casts of Sherlockian Hobo Nickel Being Auctioned
"Well, then, spend the next twenty-four hours in an intensive study of Chinese pottery."
– The Adventurous of the Illustrious Client (ILLU)
In the upcoming Heritage Auctions session at next month's Florida United Numismatists convention, there is the following lot being offered for bid:
LOT #4897   Group Lot of 8 Modern Hobos, Porcelain Castings…. (Total: 8 coins)
Group Lot of 8 Modern Hobos, Porcelain Castings. Acclaimed modern carvers Pedro Villarrubia and Paolo "MRTHE" Curcio have both experimented with porcelain castings of their carved nickels, and produced uniface reproductions of their best designs. This lot includes eight such castings, six by Villarrubia (Sherlock Holmes, Mr. Poker, and others) and two by Curcio (The Old Hobo). See the online images to view all pieces in this lot.
From The Don "H2O" Haley Hobo Nickel Collection.
Two of the 8 castings being offered feature the Sherlock Holmes hobo nickel engraved by Pedro Villarrubia, which we have discussed in an earlier post.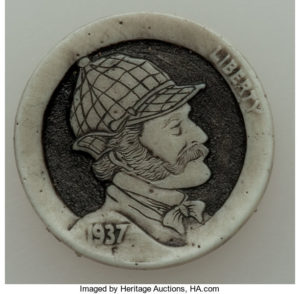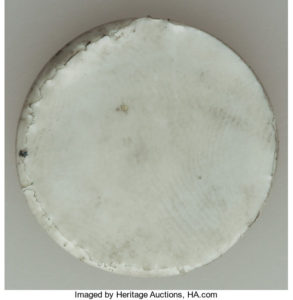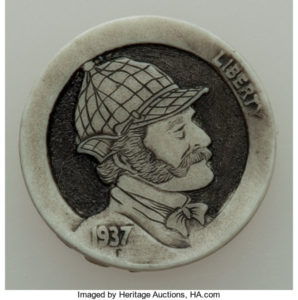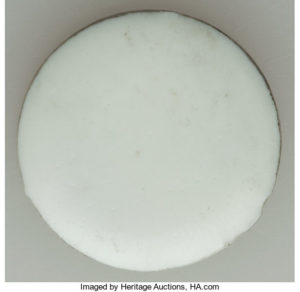 Villarrubia is an incredibly talented engraver, and these porcelain casts of his work are an exciting discovery. Additional information on these pieces is very much desired.
Update 1/20/2019 – This lot sold for $192, which includes the 20% buyer's premium.
Thanks to Peter E. Blau, the 13th Garrideb, for alerting us to these items.
Thanks also to Heritage Auctions for sharing these photographs with us.