The 1935 Sherlock Bones Hobo Nickel
"Mr. Holmes, they were the footprints of a gigantic hound!'"
– The Hound of the Baskervilles (HOUN)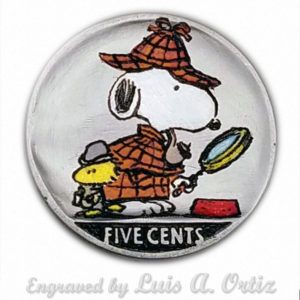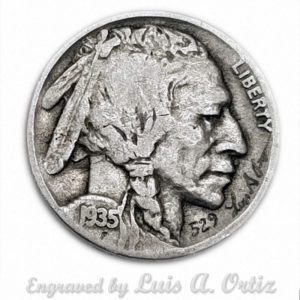 Back in 1992, the Original Hobo Nickel Society was formed to promote the collecting of engraved buffalo nickels that had been produced prior to 1980. Most of these "original" nickels were engraved with nails, knifes, files and perhaps some punches. In the years since the OHNS was founded, there have been many modern hobo nickels (and not just nickels, almost any coin) created by talented artists using microscopes and power tools. Depending on the quality of the work, these modern hobo nickels can cost many hundred of dollars.
Pictured above is an engraved 1935 Buffalo nickel, with all of the original reverse removed except for the denomination. Engraved by Luis A. Ortiz, an engraver based in Easton, Pennsylvania, he calls this design "Sherlock Bones Snoopy." Ortiz engraves a "catalog" number on the reverse side of the coins he engraves and signs his name. He assigned the catalog number of 529 to this work. Unlike many other modern engravers, Ortiz also colorizes his artwork.
The design features Snoopy, from the classic cartoon strip of Peanuts, wearing a deerstalker hat and inverness cap and a pipe in his mouth, using a magnifying glass to look for clues on his dog bowl. The bird character of Woodstock is dressed as Dr.Watson.
We featured Mr. Ortiz a few weeks ago with his 1972 Hobo Dollar that also featured Sherlock Bones. You can read that post HERE.