Richmond County (NY) District Attorney Investigation Bureau Challenge Coin
"Cross-examined by the clever attorney …"
– The Valley of Fear (VALL)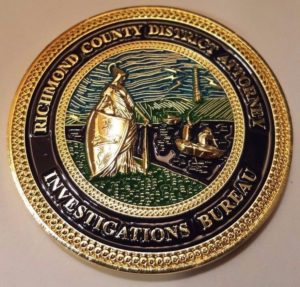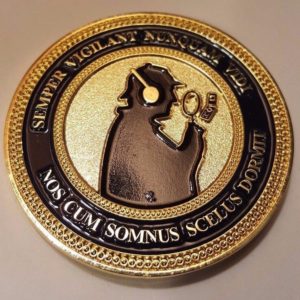 In 2016, the Investigation Bureau of the Richmond County (New York) District Attorney's office issued a Sherlockian themed challenge coin. Richmond County is all of the borough of Staten Island, so it is a part of New York City.
OBVERSE: RICHMOND COUNTY DISTRICT ATTORNEY / (seal of Richmond County, New York) / INVESTIGATION BUREAU
REVERSE: SEMPER VIGILANT NUNQUAM VIDI / (profile of Sherlock Holmes, facing right, wearing a deerstalker cap, headphones and examining a celluar flip phone with a magnifying glass) / NOS CUM SOMNUS SCELUS DORMIT
51mm, Round, Enamel
The legends on the reverse loosely translate as ALWAYS VIGILANT NEVER SEEN and WHEN WE SLEEP WE FAIL.