Sherlock Home Finders Phone Card
"Three days ago I had a call from a man who said that he was a house agent."
– The Adventure of the Three Gables (3GAB)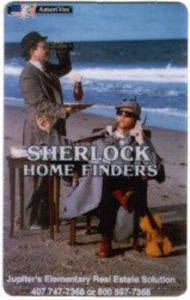 We've had several earlier posts on Japanese phone cards with Sherlockian themes (and there will be more in the future). However, this time we will be discussing a phone card that was issued in Jupiter, Florida by the real estate brokers Sherlock Home Finders.
This 10 minute phone card was issued throught AmeriVox, a leader of branded phone cards in the mid 1990's. Sherlock Holmes is sitting on the beach and using a portable phone, with a violin by his feet. Dr. Watson is holding a serving tray with a beverage, while scanning the waves with a set of binoculars. A side table, with a copy of the telephone book, is between the two gentlemen.
Only 200 of these cards were issued. Sherlock Home Finders still uses this photo in some of their advertising today as seen below.