The Lady Carfax Memorial Walk Medal
"She walked up the Kennington Road …"
– The Disappearance of Lady Frances Carfax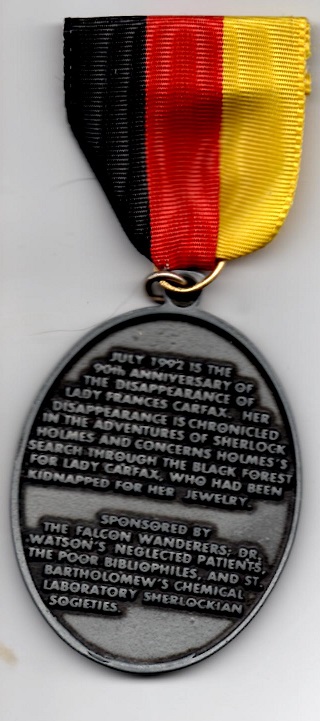 In the January 1992 edition of Peter E. Blau's Scuttlebutt from the Spermaceti Press, he commented:
The American Volksmarch Association and three local Sherlockian societies will sponsor a "Lady Carfax Memorial Walk" in Black Forest, Colorado, on July 25 (a special souvenir medal will be presented to all who complete the walk). For additional information, send an SASE to The Falcon Wanderers AVA-072, Box 17162, Colorado Springs, CO 80935.
Edward C. Rochette, the 5th Garrideb, was the driving force behind the design of the medal and was active in the three Sherlockian scions that sponsored the Walk. Unfortunately, only Doctor Watson's Neglected Patients survives today.
OBVERSE: (bust of Lady Frances Carfax) / A / V / A / THE LADY CARFAX / MEMORIAL WALK / I / V / V / BLACK FOREST, CO / JULY 25, 1992
REVERSE: JULY 1992 IS THE / 90th ANNIVERSARY OF / THE DISAPPEARANCE OF / LADY FRANCES CARFAX. HER / DISAPPEARANCE IS CHRONICLED / IN THE ADVENTURE OF SHERLOCK / AND CONCERNS HOLMES'S / SEARCH THROUGH THE BLACK FOREST / FOR LADY CARFAX, WHO HAD BEEN / KIDNAPPED FOR HER JEWELRY. / SPONSORED BY / THE FALCON WANDERERS; DR. / WATSON'S NEGLECTED PATIENTS, / THE POOR BIBLIOPHILES, AND ST. / BARTHOLOMEW'S CHEMICAL / LABORATORY SHERLOCKIAN / SOCIETIES.
64mm x 52mm, Oval, White Metal suspended from a black, red & yellow ribbon
Special Thanks to Ron Lies, aka The Game is Afoot from the Hounds of the Internet discussion group, the Secretary of Dr. Watson's Neglected Patients for providing us the photos of the medal.