Data! Data! Data! – Lady Frances Carfax
"'Data! Data! Data!' he cried impatiently. 'I can't make bricks without clay.'"
– The Adventures of The Copper Beeches (COPP)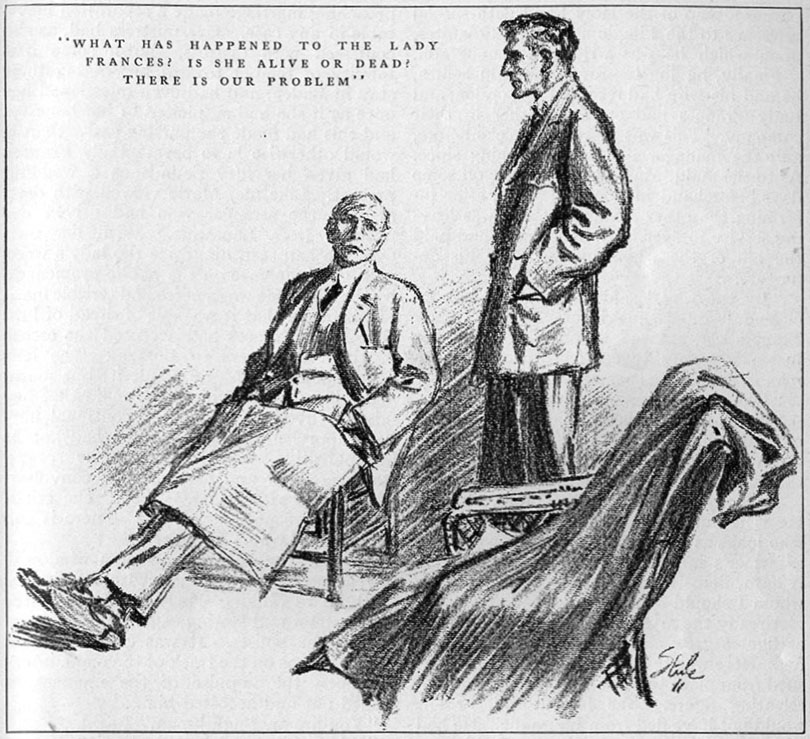 This column is composed of material (Data!) developed for a short course called Appreciating Sherlock Holmes that I teach twice a year in the Community Education Life Enrichment Program for a local community college.  It is composed of "points of information" that are common to many / most / all of the 60 Canonical stories.
The information here has been researched by me or borrowed / stolen from many efforts of other Sherlockians.
HERE GOES….      This month's story The Disappearance of Lady Frances Carfax
CHRISTOPHER MORLEY SAID . . .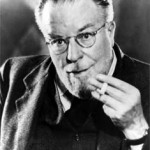 "When Holmes telegraphed Watson asking for a description of the Rev. Dr. Shlessinger's left ear, Watson thought it an ill-timed jest.  But as usual Holmes had his reasons.  A gruesome and excellent story, and with an unexpected suggestion of romance:  when Holmes deduces that Watson had a companion in the cab, it is not the first suggestion that the doctor is courting a second Mrs. Watson."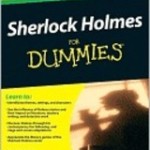 DUMMIES SHORT SUMMARY (From Sherlock Holmes for Dummies by Steven Doyle & David Crowder)
"One of the most dangerous classes in the world", says Holmes, "is the drifting and friendless woman.  She is the inevitable inciter of crime in others."  So it was with Lady Frances Carfax.
PUBLISHING HISTORY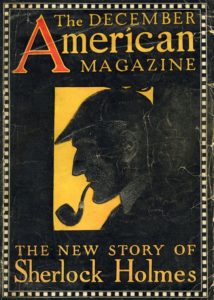 This is the 45th of the 60 stories published
In England, it was published in The Strand Magazine, December, 1911
In the U.S. it was published in The American Magazine, December, 1911
It is part of the His Last Bow collection, published by John Murray, London, 1917 and George H. Doran, New York, 1927
The British illustrator was Alec Ball.
The American Illustrator was Frederick Dorr Steele.
HOW MANY WORDS?
According to C. E. Lauderback, 1960 – – found on SHERLOCKIAN.NET website.  At 7,740 words LADY has the 25th most words (#1 is VEIL – 4,499, #56 if NAVL – 12,701) of the 56 short stories.
THE BEST OF SHERLOCK HOLMES (How do Sherlockians rate this story?)
1944 – The Baker Street Irregulars voted it #3 on their worst list
1999 – Sherlock Holmes Society of London voted it 36th of the 56 short stories
CLASSIFYING THE CASE (From the Wandering Gipsies of Grimpen Mire of Decatur, Alabama)
This case is one of 3 classified as a disappearance by abduction.  In this case, the abductors escaped. The other 2 were PRIO and SOLI
CHRONOLOGICALLY SPEAKING
Doyle was often very vague about stating WHEN the tale took place and included few contemporary references to help.  Whether this was done intentionally or unthinkingly, the dating of events in the Canon is a very popular pastime pursued by several of our "scholars" researching and justifying their results to no end.  We will again default to William Baring-Gould's dating of Tuesday, July 1 to Friday, July 18, 1902 making it the 52nd of the 60 stories in time.  This means that Holmes is 48 and Watson is 50.
WHAT ELSE HAPPENED IN YEAR?
This starts out as a much L O N G E R list.  It is always interesting to see what else in happening at the same time as the stories take place.
First celebration of Empire Day; renamed "Commonwealth Day" in 1959.
Salisbury resigns, succeeded as PM by Arthur Balfour.
Anglo-Japanese Treaty, for mutual defense and to maintain status quo in Far East.
Education Act abolishes School Board system. Local control goes to town and county councils.
British Academy granted Royal Charter.
Esperanto introduced to England.
Establishment of Metropolitan Water Board, supplying London.
Arthur Conan Doyle is knighted.
Triple Alliance (Germany, Austria, Italy) renewed to 1914.
French work day reduced to 9 1/2 hours.
Public Health Act in France improves artisan living conditions.
Pierre, Martinique, destroyed by earthquake.
Abdul Hamid gives Germany concessions to build railway to Baghdad; rail system to stretch from Hamburg to the Persian Gulf.
Conan Doyle publishes The Hound of the Baskervilles.
Kipling publishes Just So Stories.
Beatrix Potter publishes Peter Rabbit.
Enrico Caruso makes his first gramophone record–154 recordings in all.
Picasso paints Nude, Back View.
Wireless telegraphy applied to ships.
Trans-Pacific Cable laid.
Completion of Aswan Dam in Egypt.
HOLMES AND WATSON – PERSONAL INFO
It is not definitely stated, but Holmes and Watson seem to be together at 221B.
DRAMATIS PERSONAE
This cast has several minor characters and one big villain who is worthy of boos when on the screen.
LADY FRANCES CARFAX, the only surviving heir of…
EARL OF RUFTON, deceased. Father of Lady Frances
MISS DOBNEY, formerly a governess and friend of Lady Frances
MARIE DIVINE, maid of Lady Frances.
JULES VIBRANT, a waiter at the Hotel National and engaged to Marie.
MOSSER, manager of Hotel National.
SHLESSINGER, aka HOLY PETERS, a fake clergyman who specializes in fleecing lonely women.
SHLESSINGER aka MS. FRASER, his accomplice.
PHILIP GREEN, former suitor of Lady Frances, recently returned from Barberton, South Africa.
ROSE SPENDER, a former maid of Mrs. Fraser who died and shared the coffin with Lady Frances.
HORSUM, tended Rose and pronounced her dead.
STIMPSON & CO., undertakers who made the special coffin.
BOVINGTON'S, pawnbrokers where Peters pawned some of Lady Frances'
"QUOTABLE SHERLOCK"
Holmes gives Watson some lessons in this story.
"There is one correspondent who is a sure draw, Watson. That is the bank. Single ladies must live, and their passbooks are compressed diaries."
"Besides, on general principles it is best that I should not leave the country.  Scotland Yard feels lonely without me, and it causes an unhealthy excitement among the criminal classes."
"All my instincts tell me that she is in London, but as I have no possible means of telling where, we can only take the obvious steps, eat our dinner, and possess our souls in patience."
"When you follow two separate chains of thought, Watson, you will find some point of intersection which should approximate to the truth."
"Thrice is he armed who hath his quarrel just."
"Should you care to add the case to your annals, my dear Watson," said Holmes that evening, "it can only be as an example of that temporary eclipse to which even the best-balanced mind may be exposed. Such slips are common to all mortals, and the greatest is he who can recognize and repair them."
HOLMES' FEE
No fee is mentioned  but Lady Carfax's family were anxious, and as they were exceedingly wealthy no sum would be spared to clear the matter up.  I am sure it was many £s.
SHERLOCK ON THE BIG SCREEN & THE LITTLE SCREEN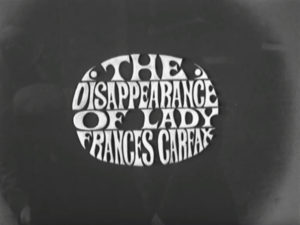 LADY has only been on the screen 3 times.  They are:
1923 The Disappearance of Lady Frances Carfax  with Eille Norwood.  The National Film and Television Archive at the BFI has viewing copies of this film but it has not been released
1965 The Disappearance of Lady Frances Carfax with Douglas Wilmer are an episode on the Sherlock Holmes TV series.
1991 The Disappearance of Lady Frances Carfax with Jeremy Brett in his long series by Granada.
SHERLOCK HOLMES IN DISGUISE
The Master of disguise used the deception of being disguised 14 times in 11 of the 60 stories and this is one of them.  Holmes poses as A French Ouvrier. (see Annotated Sherlock later) 
UNRECORDED CASES (That involved Holmes)
Watson would tease / torture his readers with "I know something you don't."  Oh my, how Sherlockians love this category.  I have in excess of over 150 examples in my collection.
IS THERE A DOCTOR IN THE HOUSE?
Victorian London, in the Holmes' time, had approximately 1 doctor for every 100 people.  31 of the 60 tales have a doctor in them.  This, of course, does not count Holmes' Boswell.  This listing is by Leslie Klinger in the winter, 2015 edition of the Baker Street Journal.  Whether it was Doyle or Watson, a doctor wrote the story.  This story gives us Dr. Horsom who was involved in the plot with "Holy" Peters, probably unknowingly
FAINTING IN THE CANON (courtesy of Sherlockian Karen Murdock)
Fainting is extremely common in the Canon, appearing, in some form, in 37 of the 60 tales.  In 21 cases someone actually faints.  In 22 cases someone almost faints.  And in 5 cases someone pretends to faint.  In this month's story, no one faints, almost faints, pretends to faint, or even mentions fainting.
HOLMES'S PUBLISHED & PROJECTED WORKS
Sherlockians love this topic and are regularly searching for these items. Holmes mentions published or projected works in 11 of the stories.  But none are mentioned here.
NEWSPAPERS (Real and Fictional)
Though included in only 20 tales some of our more obsessed Sherlockians love this one.  No obsessions are found in LADY.
ANNOTATED SHERLOCK
The 60 Sherlock Holmes stories used English as spoken in England from the 1880's until the 1910's.  Some words are foreign to us today and need a "contemporary translation." LADY only gives you 2 words that you may not recognize.
"ouvrier" French: worker
"Un sauvage – an véritable sauvage!" A wild man, truly a wild man!
WEAPONS (from A Compendium of Canonical Weaponry by Dettman and Bedford)
"a means by which one contends against another" … utilized in 57 of the 60 tales (all but CREE, 3STU, & YELL)  There are several general categories to classify "weapons" that include:  firearms, human agents, cutlery, animals, blunt instruments, extortion, toxin, blackmail, and miscellaneous.  In our story, which is short, you will find all of the following:
Revolver – Sherlock Holmes' and is mentioned in 8 cases. Used to cover "Holy" Peters
Cudgel – Which a French worker (Holmes in Disguise) used to free Watson from the strangle-hold of Philip Green.
Stick – Which Watson armed himself with before he and Holmes went to confront "Holy" Peters (alias Rev. Schlessinger).
Chloroform – Used by "Holy" Peters to drug Lady Frances Carfax.
Hands – Of Philip Green, which he used to strangle Watson half to death.
Kidnapping – Of Lady Frances Carfax by the notorious "Holy" Peters, in order to rob her of the very valuable jewels she kept with her.
Coffin – Two-Layered, in the lower berth of which Holmes and Watson found Lady Frances Carfax, after she had been chloroformed by "Holy" Peters.
ODD STUFF
Something for your enjoyment.  This was found on The Hounds of the Internet website and was contributed by Sherlockian Don Dillistone.
Just where did Lady Carfax abide?
Holmes searched in a place still untried.
It wasn't often
One searched a coffin,
But when Holmes did he found her inside.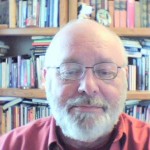 Frank Mentzel, aka Merridew of Abominable Memory, is the current Gasogene of the Six Napoleons of Baltimore and has one last meeting remaining in his term. He is currently baking holiday cookies on a daily basis. After the holidays, he will start planning for his four week Appreciating Sherlock Holmes classes for the Community Colleges of Baltimore County, MD for the spring semester.