Dealer Coin for the Sherlock Holmes Playing Card Deck by Kings Wild
"… playing cards round the dining-room table …"
– The Adventure of the Devil's Foot (DEVI)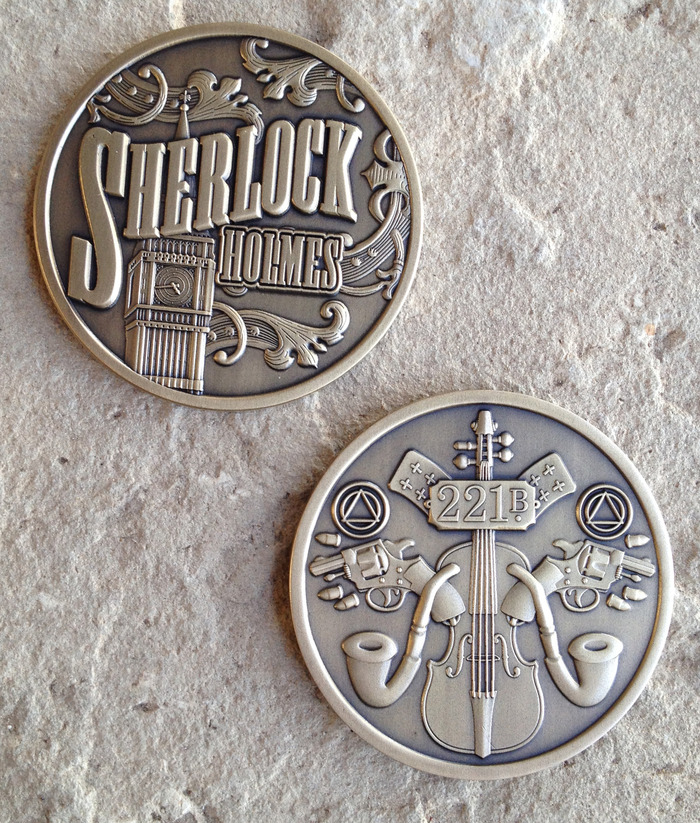 In August, we reported on a dealer coin that was struck to accompany a Hounds of the Baskervilles card deck noted playing card designer Jackson Robinson.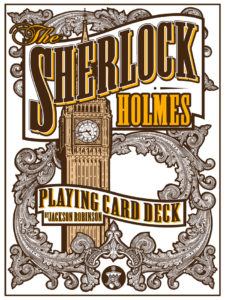 Robinson also came out with a card deck honoring Sherlock Holmes, in several different variations. These cards sold out fairly quickly, but still can be found for sale on several of the online auction services.
In addition to the card deck, a dealer coin was also struck with the emblems from the card deck. In a casual game of poker, the right to deal a hand typically rotates among the players and is marked by a coin called a dealer button (or buck). In a casino, a house dealer handles the cards for each hand, but the button (typically a white plastic disk) is rotated clockwise among the players to indicate a nominal dealer to determine the order of betting. These dealer coins won't be necessary for online poker versions such as you can find at Paybyphonebillcasino.uk and other sites. These dealer coins also sold out quickly, but can be found for sale on several of the online auction services.
OBVERSE: SHERLOCK / HOLMES / (Big Ben tower with a filigree wreath in the background)
REVERSE: 221B / (central design of a violin, with mirror images on both sides of the Vermissa Lodge seal/brand, a revolver with 3 bullets, and a calabash pipe)
Round, 50.8mm, antique bronze enamel
Below, we have a video of a playing card deck collector reviewing the differences of the different sets within the Sherlock Holmes collection.