1993 Mardi Gras Doubloons of The Krewe of Caesar
"The French have a very neat way of putting these things."
– The Sign of The Four (SIGN)
The Krewe of Caesar was formed in 1978 and would hold their first Mardi Gras parade in 1980. Today they are the largest Mardi Gras Carnival group in Jefferson Parrish, Louisiana. It's parade in Metairie is known for their beautiful floats and costumes that appeal to kids of all ages.
For the 1993 Krewe of Caesar festivities, the theme was Caesar's Library. Sherlock Holmes is represented among other literary figure. The 1993 Grand Marshall was Bugs Bunny and friends, as the parade is very kid friendly.
A total of 6 different items were issued for Caesar in 1993 – 3 different color aluminum doubloons, medals in bronze and silver, and a multi-color medal.

OBVERSE: KREWE OF CAESAR / (right facing bust of Caesar) / 1978 / MCMLXXVIII / VENI / VIDI / VICI / MARDI GRAS METAIRIE, LA.
REVERSE: (Caesar reading a book with a lamp above, surrounded by a fox, two birds flying, Alice in Wonderland, a Victorian-era Woman, Merlin the Wizard, Sherlock Holmes in deerstalker cap with magnifying glass, and the Cat in the Hat) / CAESAR'S / LIBRARY / 1993 (on a stack of books)
A – 30mm, Silver Colored Aluminum, Round
B –  30mm, Red Colored Aluminum, Round
C –  30mm, Green Colored Aluminum, Round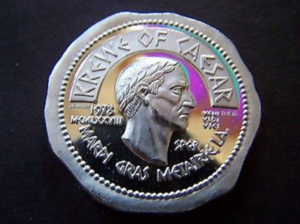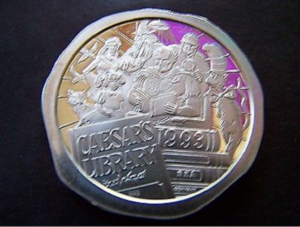 D – 30mm, Bronze, Irregularly Round
E –  30mm, .999 fine Silver (1 ounce), Irregularly Round
F –  30mm, Cloisonne Bronze, Irregularly Round