TFG Issues Souvenir Card at 2016 ANA World's Fair of Money Dinner
"Surely you will stay and have some dinner?"
– The Hound of the Baskervilles (HOUN)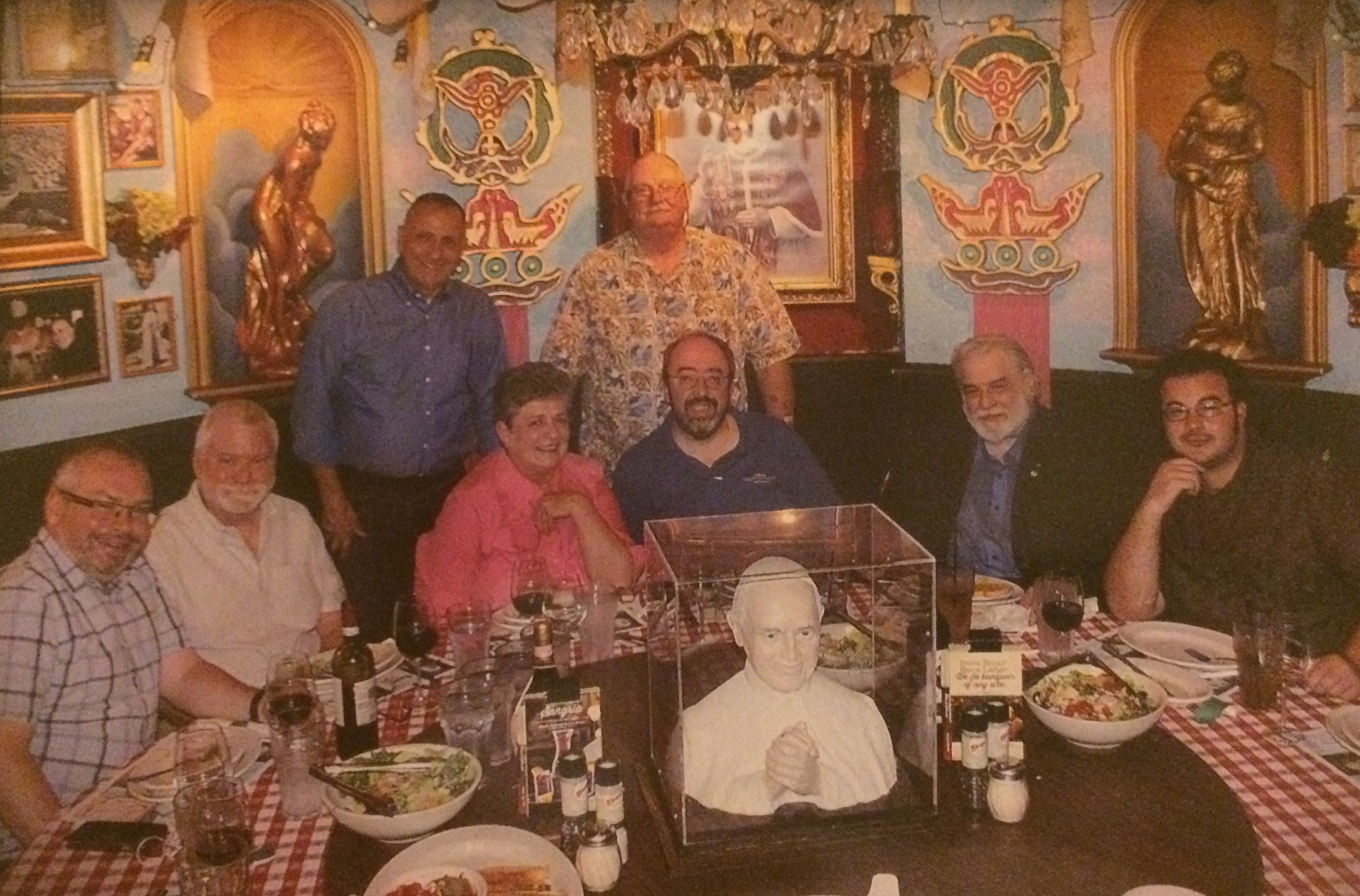 The Numismatic Friends of Sherlock Holmes Dinner in Anaheim, CA – August 11, 2016 ~ Left to Right: (Standing) Bill Fritsch, Bob Fritsch; Darren Burgess, Larry Gaye, Suzanne Gaye, Greg Ruby, Sean M. Wright, BSI, DeForeest Wright
Eight Sherlockians and numismatists gathered at Buca di Beppo in Anaheim, California on August 11, 2016 for the Numismatic Friends of Sherlock Holmes dinner. The 125th Anniversary World's Fair of Money by the American Numismatic Association was the occasion for our third dinner.  The diners literally spanned the globe as they came from California, New Hampshire, Maryland, Oregon, Washington and Australia to attend.
Our dining room was decked out in many pictures and items of the Catholic Church, so we nicknamed it as The Pope Room. Good food and good conversation ruled throughout the dinner and the attendees enjoyed themselves immensely.
As TFG has done for the two previous dinners, a numismatic souvenir was issued. For this dinner, a souvenir card was issued. Twenty-five cards were produced.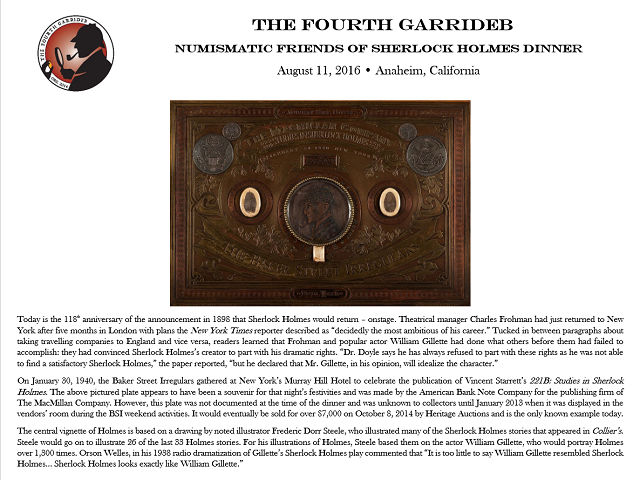 Souvenir Card issued for the Anaheim Dinner
The date of the dinner was the anniversary of the 1898 announcement that William Gillette would star in a stage production as Sherlock Holmes. (Thanks to A Curious Collection of Dates, Through The Year with Sherlock Holmes by Leah Guinn and Jaime N. Mahoney for that nugget of information. You can purchase that book HERE.) To honor the anniversary, we chose to illustrate the 1940 New York plate made by the American Bank Note Company for that year's BSI dinner that features Frederic Dorr Steele's vignette of Sherlock Holmes that was based on William Gillette's performance. You can read more about that plate and the other two by clicking HERE.
In the rush to produce the souvenir cards, the first paragraph of text on the card was lifted from the A Curious Collection of Dates book. We apologize profusely to both of the authors for our mistake.
The attendees at the dinner opted to pass their souvenir cards around the table and have the other attendees autograph everyone's card. This was a spur of the moment decision and may make a nice tradition going forward.
Plans are underway for the 2017 dinners, to be held in Orlando, Florida for the National Money Show in March and the August World's Fair of Money in Denver, Colorado. Details for both dinners will be posted as we get closer to the events.