Krewe of Alla 1983 Mardi Gras Doubloons
"The French have a very neat way of putting these things."
– The Sign of The Four (SIGN)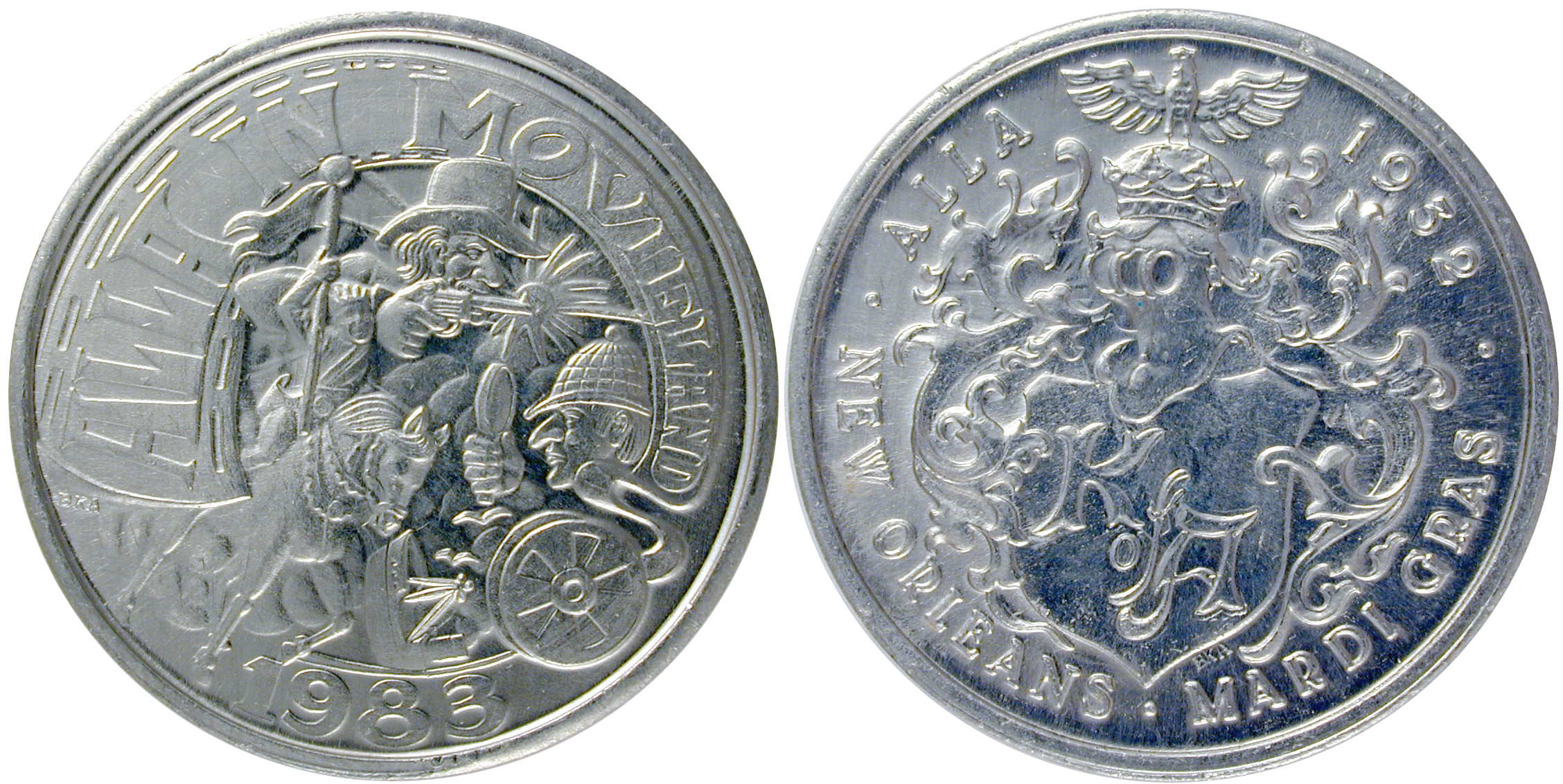 The Krewe of Alla was formed November 19, 1932 as an all-male organization, and was originally sponsored by the West Side Carnival and Social Club, Inc. The group was reorganized July 26, 1977 as the Golden Gryphon Society, Inc. In 2014, the Krewe moved its parade from the West Bank to the Uptown New Orleans route on St. Charles Avenue. Alla began accepting women as members in 2013 and now is officially a co-ed Krewe. The Krewe of Alla is known for their bright floats, multiple bands and marching groups, and generous throws!
For the 1983 festivities, the Krewe's theme was Alla In Movieland,  Sherlock Holmes is part of the  design for the theme.
A total of 7 different items were issued for Alla in 1983 – 4 different color aluminum doubloons, medals in bronze and silver, and a multi-color medal. There are also some possible varieties as well.
OBVERSE: ALLA 1932 / (shield of the Krewe of Alla) / • NEW ORLEANS • MARDI GRAS •
REVERSE: ALLA IN MOVIELAND (superimposed on length of film coming from a spool) / (images of, clockwise from top, Billy the Kid with revolver, Sherlock Holmes in deerstalker cap with magnifying glass, and a knight on horseback) / 1983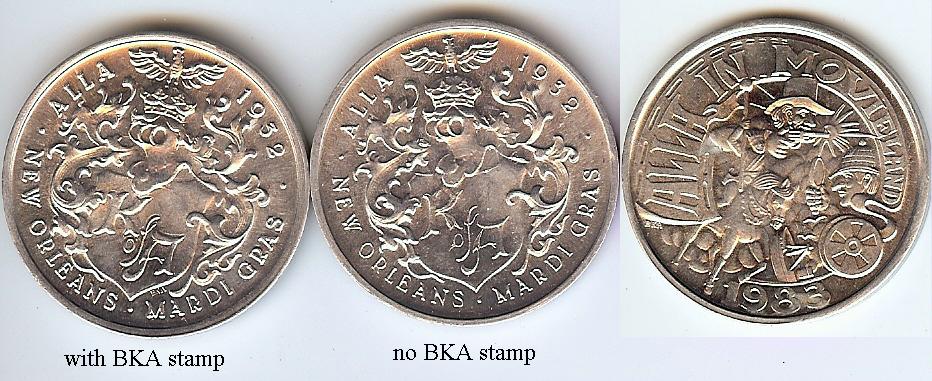 A – 30mm, Silver Colored Aluminum, Round
B –  30mm, Purple Colored Aluminum, Round
C –  30mm, Gold Colored Aluminum, Round
D – 30mm, Green Colored Aluminum, Round
All doubloons should have the initials BKA at the base of the Alla seal. There are known examples of the gold, purple and silver colored doubloons that are missing these initials.
There are reports of silver colored doubloons having a cracked reverse die, but have not been verified at this time.
It would be interesting to see if the other three colored doubloons also have examples with a cracked reverse die or the missing BKA initials, or BOTH!
E –  38mm, Bronze, Round
F – 38mm, .999 fine Silver (1 ounce), Round
G – 38mm, Cloisonne Bronze, Round