The 2016 UK Shakespeare £2 Coins and Sherlockian Actors
"You don't happen to have a Raphael or a first folio Shakespeare without knowing it?"
– The Adventure of The Three Gables (3GAB)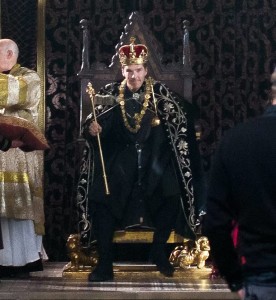 The British Royal Mint has announced that they will issue a set of three £2 coins honoring William Shakespeare in 2016. Each coin celebrates an aspect of Shakespeare's famous work.
All three coins have a diameter of 28.4mm and weigh 12g. The coins are bimetallic, with an inner core of cupro-nickel and the outer circle of nickel-brass. The obverse features the fifth portrait of Queen Elizabeth II by Jody Clark.  All three reverse designs are by John Bergdahl. Each of the three coins have a specific edge inscription relating to the theme of that particular design.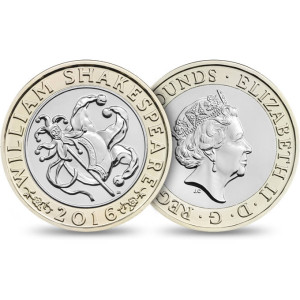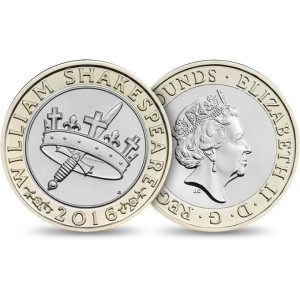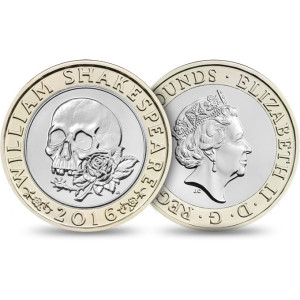 These coins can be purchased from the British Royal Mint's website by clicking HERE.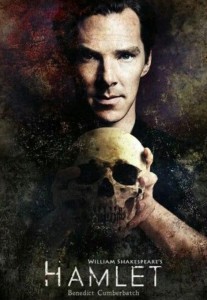 There has long been a connection with many of the actors that have portrayed Sherlock Holmes and Dr. Watson having also performed in many of Shakespeare's play.
At the top of this post, we have a picture of Benedict Cumberbatch performing as King Richard III in the upcoming 2016 BBC television series The Hollow Crown: The War of The Roses. Also in 2015, Cumberbatch performed Hamlet at London's Barbican Theater for a 12 week run in 2015. In the past, Cumberbatch has also performed in Love's Labour's Lost, A Midsummer Night's Dream, As You Like It, and Romeo and Juliet, among others
Dame Judi Dench is also cast in the upcoming The Hollow Crown: Tjhe War of The Roses as Cecily, Duchess of York, who is the mother of Richard III. Dench played Sally Young in the 1965 film A Study In Terror, which starred John Neville as Holmes.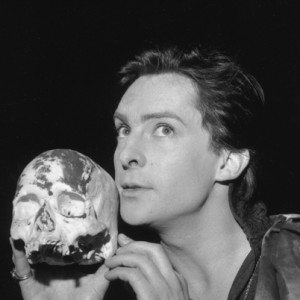 Jeremy Brett would have his turn as Sherlock Holmes and also performed in numerous Shakespearean plays. As early as 1956, Brett performed on Broadway in Richard II and a few years later was performing Hamlet at the Royal Strand Theatre. In a BBC2 television documentary Playing the Dane, Brett later said that "I don't think I was very good as Hamlet. I think I was too young. I was too young intellectually. I was too young philosophically. I was Byronic. I was very handsome. I had qualities, but I'd much rather see other people's [version]. I wasn't convinced by me". Brett would perform many different Shakespearean roles at the National Theatre Company and at the Old Vic Theatre in the late 1960's and early 1970's. Brett would also perform in television versions of The Merchant of Venice and Macbeth.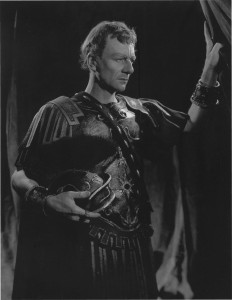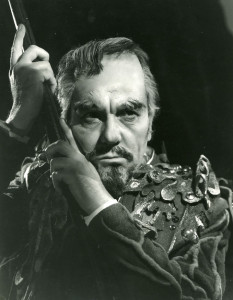 Sherlockians are familiar with Sir John Gielgud and Sir Ralph Richardson as Holmes and Watson in their early 1950's radio series.  Both gentlemen played numerous Shakespearean roles, together and individually over many years, at the Old Vic Theatre.
Gielgud would primarily become associated with his stage performance of Hamlet. Gielgud would also film versions of Julius Caesar, Romeo and Juliet, Richard III and Hamlet, among others. Richardson did many radio productions of various plays of Shakespeare and would also film a version of Richard III.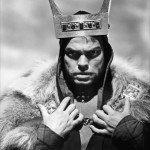 Orson Welles, who performed as Professor Moriarty in the Gielgud-Richardson radio adaption of The Empty House and also did a turn as Holmes on his Mercury Theatre of the Air, has done several versions of Shakespeare.
Welles would adapt King Lear, Othello, Macbeth and Twelfth Night, among others, for the stage, screen and television. His 1938 stage production of Caesar, a modern-dress bare-stage production that evoked comparison to contemporary Fascist Italy and Nazi Germany, is considered by some to be his best effort on the stage. There is an archive of 17 recordings of Welles' Shakespearean efforts, which can be accessed HERE.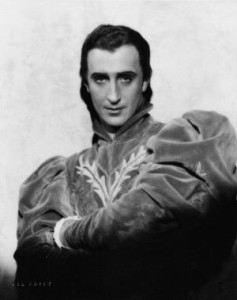 Basil Rathbone got his start in acting in 1912 by playing in numerous Shakespearean plays and would continue to do so through 1916. His Shakespearean stage career was halted by his military service during World War I, but after being released by the Army, he started back up in 1919 with a Shakespeare Summer Festival at Stratford-Upon-Avon. Throughout the 1920's, Rathbone would act in many of the Bard's plays. 1933 saw Rathbone touring 86 U.S. cities with a production of Romeo and Juliet. When the production stopped for a 12 week engagement in New York, Rathbone would play Romeo opposite of Orson Welles's version of Tybalt. Rathbone would return to performing Shakespeare in the 1950's and 1960's,