The Sherlockian Star Chamber: The Questions -The Three Garridebs
A Stiff Examination upon "The Adventure of the Three Garridebs"
Representing an Herculean effort to return to the style of the old "Boxer" quizzes by Steve Clarkson, "Torquemada" of Watson's Tin Box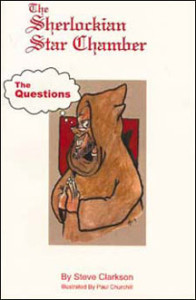 We are proud to present this quiz on The Three Garridebs, one of the 69 quizzes to be found in The Sherlockian Star Chamber by the late Steve Clarkson and illustrated by the late Paul Churchill.  These quizzes were prepared by Clarkson, over a 6 year period, as he served as the Torquemada (The Grand Inquisitor) of Watson's Tin Box in Ellicott City, Maryland.
The Sherlockian Star Chamber is still available for purchase from the publisher by clicking HERE.
Now, on to the quiz! Answers will be posted later this month. Good luck!
1. Nathan Garrideb presented two chairs for Holmes' and Watson's use. What occupied the chairs?
2. What four specific (i.e., hyphenated) types of land were acquired by Alexander Hamilton Garrideb, according to "John Garrideb"?
3. Give the name and address of Nathan Garrideb's home-agent.
4. What three characteristics of "many American men of affairs" did Watson observe in "John Garrideb's" face?
5. What was the total value of the notes Rodger Prescott printed?
6. With specific reference to newspapers, what curious nine-word misstatement did Holmes make?
7. "Mr. John Garrideb" had two other aliases plus a real name. What were they?
8. What was Watson's estimate of Nathan Garrideb's age?
9. Holmes mentioned three flaws in a putative newspaper advertisement. What were they?
10. [PUN] How do we know that "John Garrideb" was a successful gambler?
11. Watson tells us that this Adventure "cost" three persons something. Who were they, and what were their respective "costs"?
12. On what day of the week did "John Garrideb" first contact Nathan Garrideb?
13. What, according to "Mr. John Garrideb", did he and Holmes not meet to discuss?
14. What other fortune mentioned in the Canon amounted to about $5,000,000?
15. Although there are many aliases in the Canon, only a relative handful were used by persons intent upon deceiving one of Holmes' clients. I have found ten in nine Adventures. Give the real names first, then the aliases, and then the titles of the Adventures in which they appear.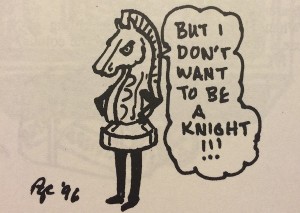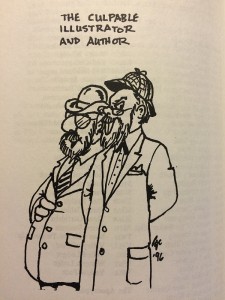 Steve Clarkson had the investiture as Morse Hudson in the Baker Street Irregulars, which he received in 1970 at a meeting of the Six Napoleons of Baltimore. Clarkson was the list-owner of the Hounds of the Internet from 2000-2004 and was the author of The Canonical Compendium in 1999.
Paul Churchill, was an avid Sherlockian who collected items mentioned in the stories of the Canon for his evidence boxes. Items that Churchill could not find for his evidence boxes, he would create "genuine faux reproductions" for those missing pieces. Churchill became a BSI member in 2006 with an investiture of Corot.
Both gentlemen were cofounders of Watson's Tin Box of Ellicott City. Maryland.
Thanks to the 14th Garrideb, George A.Vanderburgh, and the Battered Silicon Dispatch Box for their assistance with this post.